We are just a few weeks away from Strange Things Are Happening being a year old and this is our first of hopefully many round ups of a year in our psychedelic universe. The aim of this blog is to mainly help spread the word about fantastic new psychedelic music that exists away from the mainstream……..to celebrate the seekers, the seers, the obsessives that set up tiny labels in their back bedrooms/garden sheds and the sonic adventurers that create these fantastic sounds we all love. We are here to raise awareness of what we think are great records and point you good people in the right direction in order for you to listen to them and get yer mitts on a copy to buy……….we don't claim to be an authoritative voice, taste makers or anything else so grand as first and foremost we are fans (slightly OCD fans if truth be told) that want to share our love of the broad church that is psychedelia. We have decided against doing a list of the top whatever psychedelic albums of the 2015 mainly because doing lists is boring and we also don't think that this year has been particularly a great year for releases, so we are going to highlight some of the bands/labels we really dug and take the opportunity to give a shout out to some fantastic records we were late in picking up on or that we were unable to review on Strange Things at the time. Ultimately we want you to make up your own minds about the bands we write about, but we hope that on the whole you agree with us.
After a whole load of great records being released in 2014 and the Temples album actually going top 10, we were genuinely excited at what 2015 would have in store. We had hoped that more of the larger indie labels would have been prepared to invest in promoting psychedelic bands but apart from Heavenly Records having a really good collection of psych flavours it has been left as usual to the tiny labels run by psychedelia obsessives to do the heavy lifting. As for psychedelia as a commercial entity the disappointing Tame Impala record, the massively over hyped Pond release (we thought it was proper pants and couldn't understand what the fuss was about) and the WTF collaboration between Flaming Lips and Miley Cyrus put paid to that………..it's just as well that Strange Things Were Happening well away from the mainstream.
Although 2015 has not been particularly a vintage year for Psychedelia/Garage Rock releases, there have still been enough cool records that we have been very impressed with and we would like to share………
Thee Oh Sees
2015 saw a muscular follow up to the more trippy songs of their debut album, Songs Of Lies And Deceit, from the Lucid Dream who after several years of hard work were now starting to get noticed while Föllakzoid continued with their ongoing mission to seek out new life and civilization and blow their minds with III, their imaginatively titled third album. Elsewhere there was as return to form from Thee Oh Sees with a blistering album Mutilator Defeated At Last. Following last year's slightly disappointing Drop, Thee Oh Sees released a stunning record of face melting Psychedelic Punk Blues and warped Acid Rock which is their best record for a few years and gets our vote for The Best Album Of 2015. Mixing together skewed psychedelia like the acid soaked 'Sticky Hulks' and 'Holy Smokes' with brutal sonic assaults such as 'Withered Hand' and 'Lupine Ossuaary', Mutilator Defeated At Last is a Psychedelic Rock tour de force that totally blew us away from the first listen……….in a year when there have been very few really great Psych Rock records, Thee Oh Sees album is an absolute corker and it is pretty obvious that this is one of our Five Favourite Records Of 2015.
We were first introduced to Jacco Gardner's giddy psychedelic baroque and roll with his 2013 album Cabinet Of Curiosities which harked back to the late 60s psychedelia of Nirvana, The Zombies and 23rd Turn Off by combining the sounds of harpsichord, strings, flutes and other classical instruments with raw psychedelic effects. It was a brilliant record and was heaped with well deserved critical acclaim. Now signed to Full Time Hobby which seems a perfect fit as it is also the home of bands like The Smoke Fairies, Diagrams and Tuung, 2015 saw the release of his much anticipated second full album. We thought it would be impossible to create an album more lush sounding than Cabinet Of Curiosities but Jacco Gardener has managed that and followed it up with the quite beautiful psychedelic masterpiece Hypnophobia………it's an album that uses the studio as an instrument and one that sonically seduces the listener, drawing you deep into a world of exquisite Psychedelic Pop, gentle Psych Folk soundscapes, and sweeping orchestrations. It's an absolutely wonderful record and possibly the best actual psychedelic record of 2015, watch the video for 'Find Yourself' here.
One of the trends we noticed this year is that the 60s appear to finally be over and there are more psychedelic bands finding inspiration in 1970s "classic rock" sounds rather than the tripped out scene of the previous decade.......we are now in a post Altamont world where Blue Cheer, Black Sabbath, Pentagram and Iron Butterfly are the new Gods. Led by Isaiah Mitchell of Earthless, Golden Void's "sound" falls somewhere between early 70s influenced Acid Rock and Neil Young's sonic adventures with Crazy Horse…..a heady brew of tripped out Psychedelic Rock mixed with a muscular backbone of exhilarating post-psychedelic Hard Rock sensibility that creates the perfect balance of powerful riffs, soaring melodies and hazy atmosphere on Berkana, their sophomore album on the Thrill Jockey label which we really dug. If you are familiar with Earthless you will know that their thing is sprawling heavy psych jams stretching to infinity and beyond. Golden Void are a different proposition altogether, less of a cosmic jam band but tighter and more focused……… "While their debut album was mostly recorded live, Berkana was recorded with each member in isolation, allowing for more edits and overdubs. On songs like 'Dervishing' and 'Astral Plane', there are layers upon layers of sound to dig into with additional acoustic guitar, ARP synth and even flute being added to the band's sonic arsenal, expanding the scope of their sound without abandoning the heady groove they carved on their acclaimed self-titled debut". With members of Earthless and Assemble Head In Sunburst Sound together in a band you know that you are going to get an album of mind melting, sonically rich Psychedelic Rock and Roll tunes but Berkana surpassed all expectations.
If 2015 is anything to go by, we think that we may be near to "Peak Shoegaze" next year……to be fair it is a pretty nebulous genre with the Holy Trinity of MBV, Slowdive and the Jesus and Mary Chain being really the only major influences, which is not the deepest well of inspiration and unfortunately the "Shoegaze Revival" is starting to develop a generic sound. The better, more creative bands manage to show their influences without coming across like a tribute band, however there appears to be quite a few that can't escape the gravity's pull of the big three. The definitive sonic statement was made 25 years ago and even Kevin Shields has struggled to get anywhere near to anything as good as his masterpiece, Loveless, so what chance lesser bands.
Landshapes
However, there are also plenty of great bands using the sonic textures of the genre and blending them with, for example, Psychedelia, Noise Pop and Electronica to create a richer flavoured palette of sound………..we really liked records from Lips Against Glass, My Invisible Friend, The Sandcherries and Landshapes. Released on Bella Union in spring this year, Hayoon, Landshapes second album mixes together Shoegaze, ethereal Folk Rock, gentle Psychedelia, danceable grooves a la Warpaint with an Indie/Rock sensibility to create a remarkable sonic stew and one of the most interesting records of 2015……….this record shows that Shoegaze influenced music need not sound like part of the Creation Records back catalogue. Watch the video for 'Stay' here.
The Sonics returned with their first new album for 50 years. Along with early 60s contemporaries like the Kingsmen, the Wailers, the Dynamics, the Regents, and Paul Revere and the Raiders they helped set the template that would influence and inspire future generations of Garage, Punk and heavy Rock bands and the first two Sonics albums are now considered to be Garage Punk classics……..the formula has not been messed with and the old maxim "If it ain't broke, don't fix it" has been fully observed, the new songs stand up well against the classic tunes with 'Bad Betty, their cover of The Kinks 'The Hard Way' and a reworking of the classic 'I Don't Need No Doctor' (once covered by The Chocolate Watch Band) all exceptional. We got to see The Sonics live this year and it was a massive thrill, they are still as cool as fuck, still playing harder, faster, louder and still one of the most important bands from the 60s……the tag "legend" is used far too much nowadays but this band are the real deal.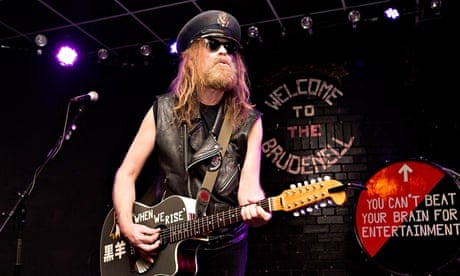 Julian Cope
Over the years Julian Cope has morphed into an author, antiquarian, musicologist, cultural commentator and champion of the underground music scene.
…………..and what a long, strange trip it has been. We love the Arch Drude dearly but we think that he has not made a truly great record for quite a while. Although fizzing with ideas and enthusiasm his records can be a little bit hit and miss, we have often thought that if you could cherry pick the best moments from 1999 – 2014 what a brilliant album that would be………well guess what kidz, that's only what's gone and happened. Released at the start of the year, Trip Advizer brings together the best 16 tracks from Julian Cope's recent solo recordings released on his own Head Heritage label, taking in tracks from his 2005 album Citizen Cain'd through to Revolutionary Suicide from 2013 (plus a couple of none album/previously unreleased tracks). "This really is an impressive set of tunes which JC has selected for this compilation and although there is really nothing much here for the hardcore fan, if you have been wondering what the man has been up to since the Interceptor album this is a fantastic way of catching up". This one gets our vote for Best Compilation (Artist) Album Of 2015. Over the years JC has kinda evolved into a folk singer of sorts (admittedly a very, very weird one that dresses like a Oddball, the hippy Tank Commander in Kelly's Heroes), a psychedelic troubadour and agitator singing songs of reverence and revolution………Live, a JC gig is still a brilliant night out full of great songs and stories. Along with the Sonics show we saw, Julian Cope at the Glee Club in Brum was one of the gigs of the year.
We must give great praise and a tip of the hat to the fantastic Independent labels that are getting psychedelic music out into the world and the bands that are putting out their own quality releases. Although there are an absolute ton of great imprints putting fantastic albums out around the globe (i
n a lot of cases run by enthusiasts with great ears and impeccable taste operating on a shoestring budget but with determination to get records released)
, we would like to highlight just a few of them whose releases we have thought were really special this year.......
White Manna
Cardinal Fuzz go from strength to strength……..as well as great records in 2015 from White Manna, Pretty Lightning, The Band Whose Name Is A Symbol, Dead Sea Apes, Demian Castellanos and Minami Deutsch amongst others, they got to curate a stage at this year's Liverpool Psych Fest. We really loved Pan by the Californian psychedelic juggernaut White Manna…… it's a hell of a ride "a cross between the early Stooges and Lemmy era Hawkwind, White Manna mix the take no prisoners, balls out, sonic assault of the former with the acid fried deep space jams of the latter, locking you into their primordial grooves, ramping up the intensity of distortion and guitar wig-outs as they explore their own hallucinatory visions". Check this out, click here for the mind blowing 11 minutes plus video for the track 'E Shra'.
The German Psych/Blues duo Pretty Lightning album A Magic Lane Of Light And Rain was also pretty damn good, we described it as "an heady mix of primal Blues stomp and warped psychedelia as Pretty Lightning's take on the Blues is to tear it apart and put it back together upside down". Minami Deutsch appear to be a Julian Cope wet dream…..a Japanese band playing Neu!/Can influenced Krautrock. We thought that their debut album was a "mix of beauty and brutality that harks back to an era when some of the most innovative music from the last 50 years was coming out of small studios in Cologne and Dusseldorf and this is also an album that holds its own against the current wave of bands who have also been influenced by this period" and a record we strongly recommend. The mighty Fuzz Club Records have had a great year which featured cool split singles from Black Angels/Sonic Jesus, A Place To Bury Strangers/The Telescopes, The Myrrors/Cult Of Dom Keller amongst others and some great albums from the likes of 10,000 Russos, Sonic Jesus, Radar Men From The Moon ("a great modern psychedelic record in sense that its influences sound to be more Post Punk/Noise Rock and where the band are exploring inner space rather than outer space"), Singapore Sling along with third installment in the Reverb Conspiracy series of releases which featured Mugstar, Goat, Future and The Oscillation (watch the video for the track 'No Place To Go' here) along with other fantastic up and coming bands. To top this they held the first Fuzz Club Festival in London, November with a totally awesome line up of bands and by all accounts a epic weekend of mind bending music. Always a label of quality and distinction and always one to keep an eye on for their fantastic limited edition vinyl releases.
Electric Moon
In Germany, Sulatron Records have been releasing excellent Psychedelic/Krautrock product for 10 years now and 2015 saw great records of "epic Space Rock and slow burning cosmic jams" from Electric Moon, Sula Bassana and Zone Six. The live Electric Moon album Theory Of Mind was "definitely one for the smokers as Electric Moon cook up a psychedelic stew that has all the ingredients from classic Sabbathesque early 70s "head" music with a fair bit of Psilocybin thrown in for good measure. Closing with the swirling 'Aerosoul' again Electric Moon trip out towards the stars, travelling ever closer towards the sun on a fuzzed out psychedelic space odyssey before burning up in a hail of glorious noise, sending out shards of brilliant colour in one final freakout". There are a couple of great reissues from Electric Moon and Sun Dial along with a fantastic new Sula Bassana album which we will be reviewing soon on Strange Things.
Coming outta Richmond Virginia, Sunrise Ocean Bender put out several great records, the pick of the bunch being the epic 3 x CD release from Chef Menteur and a brilliant album of "Appalachian Space Rock" from Evening Fires which we described as "an album of freeform twisting instrumentals informed by a mix of the traditional roots music from the region where they live, Acid Rock and the Kosmische sounds of bands like Guru Guru, Bröselmaschine and Amon Düül. Slow burning lysergic jams gently ebb and flow drawing you deeper into their eerie soundscapes". Keep an eye out for releases from E GONE, Sons Of The Void and a great record from Ju Ju (a splinter project from the mighty Lay Llamas) which are due to land early next year. Closer to home is the Black Country's finest Indie, the mighty Riot Season who appear to have been operating as unofficial A and R for Rocket Recordings recently. Both Shit And Shine and Hey Colossus had records out on RS before going on to bigger things with Rocket………Riot Season can certainly spot a tune.
Not everything on Riot Season fits into our psychedelic universe but what Psych Rock they do put out is always excellent………in 2015 there was an outstanding record from the tremendous heavy Psych/Blues band Early Mammal, now on their third album where "the influence of Captain Beefheart, White Hills, Hawkwind and Uncle Acid and The Deadbeats can still be heard, however the narcotic muscularity of the debut album, Horror at Pleasure, and the more experimental Psych Rock of My Fire has been refined with Take A Lover showing a much greater depth as Early Mammal continue to develop and expand their sound as an early 70s heavy Psych/Blues/Rock inspired band". Watch the video for the track 'Inside' by clicking this link.
We have really dug some of the releases from Custom Made Music, Zeon Light Cassettes, Ongakubaka Records and Hairy Records this year. Of the more obscure releases of 2015 that have come to our attention was the fantastic debut EP, Out Of The Sun, from Bulgarian Neo-Psych band Comasummer of which Custom Made Music released a limited run of 50 cassettes. We thought it was a pretty cool EP and wrote that Comasummer are "a five piece Neo-Psychedelic band from Sofia who mix hook laden Indie smarts with the hallucinogenic swirl of Doorsy organ and very loud Rock guitar. This is a fantastic little EP and there are some very cool things happening here………….Comasummer are an intriguing mash up of an acid fried Garage Rock band fused with something far heavier" and concluded that "Out Of The Sun is well worth a listen if you like your Psychedelia a bit harder and your Indie Rock a bit further out". As far as bands heavily influenced by "post-Syd/pre-The Wall pretentious bollocks" Pink Floyd you can't get much better than French Psychédélique/Progressif band Juke. We really liked their self-released album Chimeras' Tale which was "nothing stunningly original but it is beautifully executed. There is a lot to love on Chimeras' Tale not only for fans of Pink Floyd (although it helps if you are) and early 70s Prog Rock in general but also there is lots happening here that is very modern and aficionados of newer bands that have classic Psych roots will really dig this……….It's a fantastic record and we think it is well worth checking out for both lovers of Classic Prog and current bands on today's freakscene".
One of our Five Favourite Records Of 2015, we absolutely loved the debut album from German Psych duo Lovebyrd, released on the tiny Dutch imprint Hairy Records in a limited press of 300 vinyl copies, and think it has been one of the best releases of 2015.
Influenced by The Byrds, Jefferson Airplane, Tame Impala, and Unknown Mortal Orchestra, the debut album from Lovebyrd "shimmers with the glacial beauty of the best dreamy psychedelia with swirling soundscapes built with layers of guitars fuzzed up, distorted and with lots reverb blended with a timeless 60s West Coast inspired Pop Psych sensibility full of sun drenched pop hooks that are more than easy on the ear". Following the well received release of their debut EP in January, Lovebyrd spent most of the year operating well below the radar creating a 10-track album that is a "luminously psychedelic mix of Shoegaze and Psych-Pop that is guaranteed to extend your hazy summer well into the winter months". Six of the ten tracks here were previously released on the cassette only EP which Ongakubaka Records had the vision to put out and the initial fuss about this band was fully justifiable………"the six tracks from that release still sound as stunning as when we first heard them. Opening with the tumbling guitars of 'Spinning Around' it is easy to imagine this is what the Sundays would have sounded like if they had been influenced by the swirling psychedelic sounds of the 1960s San Francisco scene instead of the kitchen sink dramas of the 1980s English Indie miserabilists like the Smiths".
We stuck our neck out a bit here and considered this record to be "an album that surely must be destined to be a modern Psych Pop classic, there is an awful lot to love here"………and we still stand by that. Watch the video for 'Shot From The Sun' here.
As the winter months set in there is something in the air. Are we in for a Psych Folk revival in 2016? Although it's been nearly ten years since bands such as Espers, Circulus, Starless And Bible Black and Tuung were receiving loads of attention and Island's back catalogue was being seriously scrutinised it feels like there is something stirring again………Joanna Newsom is back with a new record and there has been a massive buzz about the brilliant Dust On The Nettles compilation put together by Cherry Red's psychedelic wing Grapefruit. Another of our Five Favourite Records Of 2015, Dust on the Nettles – A Journey Through the British Underground Folk Scene 1967–72 is an absolute treasure trove of Psych Folk and most of the usual suspects present (Fairport Convention, Pentangle, Vashti Bunyan, Incredible String Band and Steeleye Span etc) with the less well known (Comus, Trader Horne, Trees, Fresh Maggots, Synanthesia) and is no doubt in our minds the Best Compilation Album Of 2015.
With versions of Pentangle and Fotheringay touring next year and Fairport Convention still going strong (one of the very few things along with cockroaches and tins of custard that are guaranteed to survive a nuclear blast) we can see a renewed interest in the genre. One of the stalwarts of the mid OOs Psych Folk revival are also back and recording again…….The Owl Service are back with a new record and have also made the 10 year retrospective She Wants To Be Flowers But You Make Her Owls available as a free download on Bandcamp.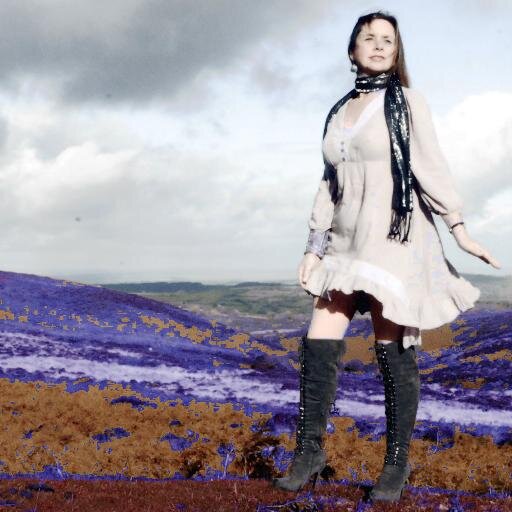 Crystal Jacqueline
There is also some great new music emerging…….the distinguished purveyors of the finest psychedelia, the UK label Mega Dodo have released some great records this year that could be described as Psych Folk/Acid Folk including albums from Crystal Jacqueline, Swedish duo Us And Them and the remarkable Portuguese band Beautify Junkyards. Summer Green And Autumn Brown by Us And Them is one of the most beautiful, mellow records released this year, we described it as " an album of such fragile beauty that is part pastoral folk, part something more melancholic…Dominated by Britt's haunting voice Summer Green And Autumn Brown reflects the changing of the seasons, slowly shifting from a trippy, slightly proggy, stroll through lush fields and woodland landscapes flecked with sunshine and shadows to a hazier place where the dark nights are slowly drawing in and there is a chill in the air. Like label mates BeautifyJunkyards, Us And Them write gorgeous songs that absorb the best of 60s/70s Acid Folk inflected with an element of Folktronica that suggest that they are both from the past and the not too distant future".
Beautify Junkyards
Beautify Junkyards followed up their 2013 album of lush Psych Folk covers with the absolutely fantastic The Beast Shouted Love, an album "full of beautifully crafted original songs that have such a timeless air about them that they sound authentically traditional yet so very modern. The Beast Shouted Love mines the same rich seams of Acid Folk that Beautify Junkyards explored on their first album, taking in influences from classic artists such as Nick Drake, Donovan, Heron, Vashti Bunyan, Linda Perhacs and……er…….Kraftwerk mixed with a hint of more modern Psych Folk acts like Soy Un Caballo, Espers and Tunng. Add to this exhilarating mix a generous helping of Os Mutantes-esque Tropicália, you then get not just an impressive record but an ethereal, magical and transcendent experience"………..and one of our Five Favourite Records Of 2015.
Another album that we had loads of time for was Advice For Hill Walkers by E GONE (Swedish multi-instrumentalist Daniel Westerlund). We got turned on to Daniel's music by the good folk at Sunrise Ocean Bender and it blew our minds. E GONE's music has been described as sounding very much like Dead Can Dance (minus the vocals of course) with a deep Middle Eastern influence. Following the excellent Smokediver EP, which was an excellent mix of traditional instruments with digital technology creating a rich blend of bubbling electronica and Eastern flavours, Advice For Hill Walkers takes its cues from the fantastic Whirled Music on the EP but is far more focused than before and Daniel has really found his groove. We think that this is the best E GONE release to date.We were really pleased to have been invited to premiere the video for 'Your Goal Is To Know Everything And Say Nothing'....you can watch it here. Originally a limited edition cassette on Zeon Light, Advice For Hill Walkers is expected to be released as an expanded CD version in early 2016 by Sunrise Ocean Bender. As we said at the time "don't be fooled by the title………..this is not a gentle Psych Folk Sunday ramble up a few hills, but more of an epic psychedelic trek through the mountains where you may need oxygen at some point to complete your journey". As for a Psych Folk revival……let's see what the spring brings.
The Sundowners
Although It appears that in 2015 most of the UK psychedelic bands are really from 1973 and sounding like a
twisted pile up of Can, Hawkwind and Black Sabbath, there are still some great bands keeping the faith and channeling swirling 60s Psychedelia. Up in Liverpool members of The Coral's extended family put out two fantastic records, with albums from the Sundowners and Serpent Power released through the Skeleton Key imprint. The debut Sundowners album is an psychedelic explosion of 60s influences and truly wonderful record that seemed to fall below the radar on release early in the year and hasn't really received the acclaim it deserves. Very much having the air of the Psych Folk vibe of the early Soundcarriers albums, it is a mind blowing mix of kaleidoscopic Folk Rock and genius Psych Pop with the standout tracks 'Into The Light' and If Wishes Were Horses' two of the best psychedelic tunes of 2015. It's a record that demands attention, it's that good........it is another one of our Five Favourite Records Of 2015. Throughout the year the band have been steadily building a reputation through their live shows and we are keen to see what 2016 brings. Watch the video for 'Into The Light' here.
The Serpent Power record is "
a carnival of fuzzed out, backwards guitars in a strange and bizarre world of warped madness. Think The Dukes Of Stratosphear/Oranges And Lemons period XTC blended with classic Beatles inspired 60s British Pop/Psych with a dash of Nilssen/The Monkees pop genius added for good measure and that will give you some idea of where Serpent Power are coming from
". It got quite a few spins down in our psychedelic basement and its paisley and lava lamp vibe was a big part of our summer soundtrack. The track 'Lucifer's Dreambox' is "
an absolute tripped out psychedelic masterpiece twisted into weird shapes by studio trickery
", check it out here.
We loved the Lysergics record which was a love letter to Swinging London that invoked the tripped out vibe of the UFO Club, Middle Earth and a Sunday at the Roundhouse. Following the same path as bands like Vibravoid, this band really know their psychedelia and can mix up swinging 60s Freakbeat instrumentals ('Unfaithful') with 15 minute tripped out tunes ('Julie's Glance') and covers of seriously obscure singles ('10,000 Words In A Cardboard Box' originally by The Aquarian Age…..aka Twink and Junior Wood from Tomorrow). The Lysergics "open up a box of swirling psychedelic delights of Eastern style drones, fuzzed up Acid Rock wig-outs, liquid sunshine pop and groovy floor fillers. The band certainly live up to their name, seeped in the essence of The Summer Of Love, tracks like 'On The Water' mix Eastern promise with acid fried West Coast freakouts".
We also dug the retro stylings of Leeds band The Ace who are a "rampage of sugar shaking poptastic mayhem straight outta the garage with hooks as sharp as a needle. Taking influences from The Searchers to The Standells to The Stairs, The Ace take the fizzy sounds of 60's Beat and Garage Rock, add a touch of Bubblegum, a dash of Soul and a large helping of
manic pop thrill
making them a real toe tapping, hip swinging, ass shaking, upbeat affair". They have a fantastic record out, Riot Of Sound, which is available as a free download through the very cool Swedish Power Pop/ Mod/Surf/ Punk/ New Wave/Northern Soul internet radio show/boutique label Ice Cream Man Power Pop And More Records with a CD release coming shortly. This record is an excellent distillation of the era in British music just before the Mods started dropping acid………think early Kinks, Beatles, The Action, The Who, The Attack, The Poets, Yardbirds and you are going to in the right place and at the right time for the inspiration/influences you can hear on Riot Of Sound. Dig The Ace's happening 60s scene kids.
We have also had our minds blown by The Honey Pot, another member of the very groovy Mega Dodo family. They have a great Jefferson Airplane vibe going on and their recent single 'Lisa Dreams' was a blast of cool 60s West Coast psychedelia. There is a new album due for release early 2016 which we are really excited about and will be reviewing on Strange Things Are Happening very soon.
A special mention for our favourite Brum band, the Hammond driven Psychedelic Blues monster Velvet Texas Cannonball who put out a fantastic EP back in March, which perfectly captured the filthy raunch of their live shows. "Coming from a place somewhere between Birmingham, West Midlands and Birmingham, Alabama, the Last Orders EP taps not only into the tradition of Brum having been the birthplace of some great Psychedelic/Blues Rock bands but also into the southern fried, lysergic blues of the U.S.A……..kinda like Primal Scream when they subconsciously slip back into their Stones preset when they forget they really want to be a cross between CAN, Sun Ra and the MC5". Check out video clip that our lighting guys, The Liquid Sunshine Light Lab, put together for the track 'I Got Time'. Last we heard they were a guitar player light and were off the road while they look for a replacement but have promised they will be back. They played one of our Psych-Out nights earlier in the year and reduced the place to a smoking ruin………a really great live band and we hope they return in 2016.
My Invisible Friend
Outside the UK strange things were really happening in 2015……….we were very impressed by what was going on in the Italian psych scene and it was mainly Italian bands that were the first to show support to what we were trying do with the blog (our first review of the year was for the fantastic debut EP by Shoegazers/Noiseniks My Invisible Friend). It's a very good time for Italian psychedelic music at the moment with some really cool bands making some tremendous records. Amongst this year's crop of great releases was Don't Look At The Moon, the debut from Plastic Man who are a 60s psychedelia, fuzzed out Nuggets style Garage Rock and punky Power Pop influenced trio from Florence, "This immediately accessible album is a mix of both vintage retro sounds and more modern snappy Psych-Pop/Garage Rock influences producing a record that blends swirling neo-psychedelia with a tempered, needle sharp pop sensibility".
Good Morning Finch
Good Morning Finch are an interesting band that with their second release are evolving from a Post Rock band into something more subtle and thrilling "Gemini has the feel of a band in transition as Good Morning Finch move towards a more Dream Pop influenced sound, even though there are some fantastic noisy Post Rock tunes like "Atomite" and "Cane", it is the longer tracks that are more interesting as they give the band more space to explore and experiment……."Copenhagen", "Malia" and the album's title track are all excellent". We were kindly invited to premiere part of their experimental video project "Fractals" which was "composed of four videos made of images, stock footages, old tapes and weird stuff mixed together to achieve a point of view above the single fragments. It's about realizing that nothing is just as simple as we see it but we can imagine everything as a combination of things repeating themselves endlessly and every time giving a different meaning to our lives, In the same way these clips made out of hundreds of different footage shot by unknown people can mix up together to make sense and recreate feelings that strictly related to the music."
You can watch the video here.
We liked the Furfuzzy/Furflies split 7" release from Unmade Bed and Lips Against The Glass. The concept of the two bands doing split single together was to highlight the similarities of the music they both make although they are essentially coming together from two different directions, both tracks are totally psychedelic but in their own way. The "Furfuzzy" side of single is a "fantastic slice of sparkling psychedelia from Unmade Bed, ethereal guitars gently swirl around clattering drums as the track slowly builds and then drifts back into the haze it emerged from". The flip side ("Furflies") features the Lips Against The Glass dark, psychedelic Electronica/Shoegaze a "haunting, stripped back, minimal tune that bring to mind early Sigur Ros and the experimental soundscapes of múm".
Giöbia
Magnifier by Giöbia is a stunning record…… heavier and darker than their past records, it sees the band move away from a 60s Garage Rock swirl towards a more Psych/Space Rock sound, drawing you ever deeper into a lysergic vortex of exotic mantras and Sabbathian rituals. The 15 minutes plus of 'Sun Spectre' is epic Space Rock and a total trip "taking the best elements of Psychedelic Rock and infusing them with new energy and Magnifier is a beast of a record, an Acid Rock/Space Rock hybrid that can melt minds at 100 paces". Watch the video for 'Lentamente la Luce Svanirà' here.
There is a massive Shoegaze scene in Italy that has produced some really great bands and there were a whole bunch of cool singles/EPs released during 2015. W
e particularly liked the records from Clustersun, the aforementioned My Invisible Friend ("a wave of beautiful noise" we said) and an EP that we considered to be "essential listening for fans of the classic Creation bands and also one of the best Shoegaze records to be released this year" from La Casa al Mare, who have "
lovingly crafted a set of songs of pure beauty that mix together the essence of the best parts of classic Shoegaze albums like Loveless and Souvikia and although you can hear their influences loud and clear, the sheer class of this EP transcends any accusations that they are mere copyists"......watch the video for 'Sunflowers' here.
The Vickers
One band we really need to include here are the fantastic 60s influenced Italian Psychedelic Rock band The Vickers…………………most of 2015 was spent gigging and promoting their wonderful 2014 album Ghosts. However early this year they put out a cover of George Harrison's 'Love You To' from the Revolver album. It's our vote for Best Cover Version Of 2015. Check out the video and you can download the track for free here.
Winning our vote for Best Mix/Remix Album Of 2015, the mighty Amorphous Androgynous returned with another expertly crafted mix album in the A Monstrous Psychedelic Bubble (Exploding In Your Mind) series, this time a collection of lager guided melodies from the Down Underground that were unfortunately overshadowed by AAs annoyance of their shoddy, boorish treatment from professional gob shite Noel Gallagher over their two years' work on an album that never was. From reading between the lines, it appears that originally AA were given
the
task to reinvent Noel Gallagher as a Psychedelic Priest (he was looking for the "new sound") when in reality he was only looking for a bit of bolt on psychedelic credibility…………it appears that Noel was so massively out of his depth working with genuine psychedelic visionaries that as soon as he realised that people would still buy his own crappy, pedestrian music in massive quantities the project got dropped like a hot brick. Stating that he did not release the album because he "couldn't be arsed" shows him up as a massive, graceless twat………………hopefully the tapes will be leaked on line one d
ay and there is probably a book in this somewhere.
We love Bandcamp!! As a resource for checking out new music, connecting with bands/labels and buying LPs/CDs/Merch direct we don't think there is anything better. We also like that it is very democratic and available for both established bands and bedroom psychonauts to get their music out into the world. One drawback is that there is so damn much off it and the quality of some of albums on Bandcamp is……..err…….suspect to say the least. We thought it would be a good idea to pick a few "name your price" downloads each month that we like, feel are well worth checking out and bring them to your attention………there is nothing scientific going on here, we don't spend ages down in our psychedelic basement ploughing through all the Bandcamp releases, albums tend to be chosen originally on the basis that we like the cover artwork……..we really are that shallow. We have no doubt missed an absolute ton of gems over the year but we think we have picked out some really commendable releases in 2015 which we hope you found time to check out.
From this year's batch of downloads we have reviewed on Strange Things there are a few that have really stood out…………………………..we have really dug Russian Psych Rock band Cosmic Letdown and their album Venera which we thought was "a trip to the stars…..a mini masterpiece of great fuzzed out riffs and awesome grooves which you will dig if you are into bands like The Warlocks, Black Angels and Asteroid #4". We liked YOU a lot. They are a bunch of stoners from New Mexico…….when they are not working at the Albuquerque Mind-Research Lab (which we think is in the drummer's basement) they moonlight as a four piece(?) heavy Psych band who are gigging loads up and down the West Coast and are well worth checking out. They currently have a split 12" vinyl split release with another New Mexico band Sun Dog available which we hope to review soon.
We found some great new Psychedelic Pop acts that are mainly influenced by new psych-rock acts such as Tame Impala, Pond and Unknown Mortal Orchestra. We were really impressed with Psych Poppers Dolores and were blown away when we stumbled across Peach Fuzz, a fantastic album from the Wisconsin psych-heads……..the real standout track was 'Next Stop', "six minutes of neo-psychedelic bliss that you would need a heart of stone not to love"
We also loved the first steps from the New Cardinals and their 70s Psych/Prog influenced modern psychedelic pop songs "jam packed with ambitious ideas which are not quite matched by the quality of the recording technology that they currently have available" but brilliant all the same and the debut EP from Moonsong was pretty special as well with "five tracks of experimental but perfectly accessible, snappy 3 minute Psychedelic Pop tunes, which bring to mind A Wizard, A True Star period Rundgren".
There is no doubt that the band whose Bandcamp releases we have been most impressed with this year is The Waves. Led by guitarist/singer Austin Garner, a "man so completely immersed in all things psychedelic, cut him and he will bleed paisley", in The Waves psychedelic world it's always 1967 and all the clocks are set at 25 O'Clock. "Their music sweats the essence of incense and patchouli oil in a psychedelic swirl of Byrdsian jangle, McCartney bass lines, backward guitars and gorgeous multi-tracked harmonies ……..it's blissful acid soaked groovyness where Eastern flavours meet the far out". The Waves first came to our attention back in May this year when we stumbled across the fantastic track 'Drifting' which was followed by the release of a bunch of fantastic 60s inspired great quality demos/home recordings with a EP of new songs landing only a few weeks ago. This EP shows a logical progression as The Waves begin to evolve into a pulsating psychedelic entity, they are now a full gigging band and we look forward to what they do next year. Someone give this band some decent studio time to record a proper album…….it will blow minds.
We have always considered psychedelia to be a broad church (with a groovy stained glass window depicting the scene from the Doors movie where Ray Manzarek figures out the opening bit to 'Light My Fire') and there have been several records that come from the "Twilight Zone" of our psychedelic universe that would not normally fit 100% with our "Garage Rock, Classic Psychedelia and New Psych Sounds" tag line but are strange enough to have caught our ear and if we could get our heads around them we tried to do them justice on Strange Things. Chicago's Crown Larks are one such band whose Blood Dancer album met "somewhere at the junction that psychedelic Post-Rock/Prog Rock crashes into free jazz and the launch pad for avant-garde explorations, Crown Larks are pretty far out". Check out this cool video for their track 'Chapels'. We loved the "loose limbed, wonky Space Jazz/Psychedelic jam" Planet Cantaloupe EP from Welsh Kosmische Musik/Psychedelia influenced band Spurious Transients and there were also records we dug from Italian Cosmic Free Jazz/Prog combo Squadra Omega, the Krautrock tinged Post Rock band Tygaton and an album of twisted Psych tunes from The Dictaphone but were unable to review.
The strangest album must be the crazy/brilliant Superfreak that came out on Black Vagina Records (honest) by Italian one man band Belly Hole Freak who we described as "Imagine if Seasick Steve was not as bland as fuck but born under the bad sign of a dirty blues crazy wind and you would still be nowhere near the weirdness of Belly Hole Freak, a one man band who is influenced by delta blues, early swing, Dixieland and inspired by giants such as Howlin' Wolf, Captain Beefheart, Robert Johnson, Tom Waits". It's a fantastic warped Blues record and t
here are some great tunes on this record…….. "Amongst nine wonderfully deranged songs the three that are possibly the standout tracks are 'Wow' a boogie number straight outta the Mississippi Delta, 'Catfish' is psychedelic Dixieland jazz and 'Woodoo Soup Monkey' is……er….souped up Howlin' Wolf".
Pure Phase Ensemble IV feat. Mark Gardener
We had a lot of time for the Pure Phase Ensemble 4 feat. Mark Gardener Live At Spacefest 2014 album.
The Pure Phase Ensemble is certainly quite a unique musical concept. It's an international music collective, created especially for the annual SpaceFest festival in Gdansk in Poland, which plays live only the once before disbanding. Each year, in the first week of December, several musicians from Poland and elsewhere take part in several workshop sessions where they collectively compose a concert's worth of music which they then present live to the festival-goers.This one-off performance is recorded and subsequently released on Nasiono Records. The programme for each workshop is jointly curated by Ray Dickaty, a British saxophonist improviser and former member of Spiritualized, and Polish musician/Nasiono Records label boss Karol Schwarz. Along with these two key figures, every festival involves a new musical director who is asked to co-curate the workshop. For the 2014 SpaceFest Ride guitarist/singer Mark Gardener was invited to be the musical director for the fourth incarnation of the Pure Phase Ensemble and bring his significant talent as a musician and songwriter to the project. It is a fantastic record and "this line-up of Pure Phase Ensemble mix up Kosmische jams, Space Rock freak outs and swirling Shoegaze a million miles away 'Vapour Trail'. However, this is not just Mark Gardener and some Polish guys acting as his backing band but a proper collective effort with the entire band bringing something to the party, all playing off each other and sharing the musical limelight". This gets our vote as Best Live Album Of 2015.
So that was 2015. A very big thank you to everyone who takes the time to read our scribblings and we have appreciated the cool feedback we have had during the last year. We would like to wish you all a psychedelic Christmas and groovy New Year and Strange Things will be back early next Jan with another batch of record reviews.
And finally…….we would like to thank the various bands and labels that have supported us by sending us stuff to listen to and sharing our brain think on social media. We know that this is really a very small percentage of the records that were released this year and we have no doubt missed an absolute ton of cool psychedelic records……the content of Strange Things Are Happening is determined by what we are sent, what new records we buy and what we dig up on line. We are always happy to be sent stuff to listen to and write about; we would prefer physical copies of singles/EPs/albums although we do realise that in some cases it is just not practical because of budget restrictions, overseas postage costs or the actual format of your record may be a digital download only and please, no cassettes as we have nothing to play them on………however, a handy hint……if you do send a CD or vinyl we really appreciate that you are prepared to do that and it goes to the top of the "to do next" list. We listen to everything we are sent but in some case it not possible to review some things because of time restrictions or the record does not fit our psychedelic universe but ultimately we are here to help spread the word. You can contact us via our Facebook page at www.facebook.com/pages/Thee-Psychedelicatessen/1448966508687765 or email us at theepsychedelicatessen@gmail.com
STRANGE THINGS ARE HAPPENING is the blog for THEE PSYCHEDELICATESSEN