Strange things are happening in Finland…………….two years in the making, Octopus Syng follow their 2014 release, Reverberating Garden No. 7, with a brand new album released by Mega Dodo that is an hallucionary blend of baroque Psychedelic Pop and Acid Folk. Hollow Ghost/Rochelle Salt takes many of the themes, sounds and textures that made their previous album so alluring and gives them a subtle twist. A rich, dark and sometimes mystical brew of modern Psychedelic sounds, this is a sensitive and melancholic record that, like its predecessor, draws on the spirits of Syd Barrett/early Pink Floyd along with the more contemporary vibes of modern day Psychedelicists such as Jacco Gardener.
Hollow Ghost/Rochelle Salt is, in parts, dissonant and eerie and in others intriguing and diaphanous. Mixing up the feel of Syd Barrett's more whimsical flights of far out fancy with the Floyd (such as 'Matilda Mother', 'Flaming' and 'Chapter 24') with gentle, pastoral late 60s Psych Folk, Octopus Syng create a wash of blissed out, swirly, acid soaked Psychedelic Pop where beneath the surface there is just a nagging suggestion of darker forces. Full of quirky Floydian flourishes, the inspiration for this record comes from a parallel 60s universe where Pink Floyd and The Soft Machine were the more influential bands and not The Beatles and The Stones……..
Hollow Ghost/Rochelle Salt vibrates with a Psychedelic Summer of 67 shimmer which also evokes the less well known British 1960s Baroque Psych bands such as 23rd Turnoff, Kaleidoscope, Les Fleur de Lys amongst all the other groups that had invested in a Mellotron and dropped acid. There is certainly a strong Barratt influence on a large proportion of this album with 'Surrealistic Room', 'Lady Florette', 'Unknown Actress', 'Reverberating Garden Number 7' and the fabulously wonky 'Belle and Ville' all sounding like they could be from poor Syd's fried egg mind, whereas the opening track 'Carbon Dust and Latin Romances 1927' is not dissimilar to the tripped out soundscaping of A Saucerfull Of Secrets where the Floyd started to pick up the pieces after his L.S.D. fuelled breakdown. There are also some great dark and twisted, atmospheric, folky Psych tunes here………. the more opaque 'Echoes from The Past Centuries', 'Melancholy of Delight' and 'Walking in The Pale Light' are all fantastic blends of old and new Psychedelia which add a little shadow to the kaleidoscopic hues of the rest of the album. Hollow Ghost/Rochelle Salt is luscious experience, a trippin' musical creature, where each note is a short journey to unimaginable places in our minds. So relax and let yourself drift into an ethereal world of dark imaginings and prepare yourself for a very strange trip!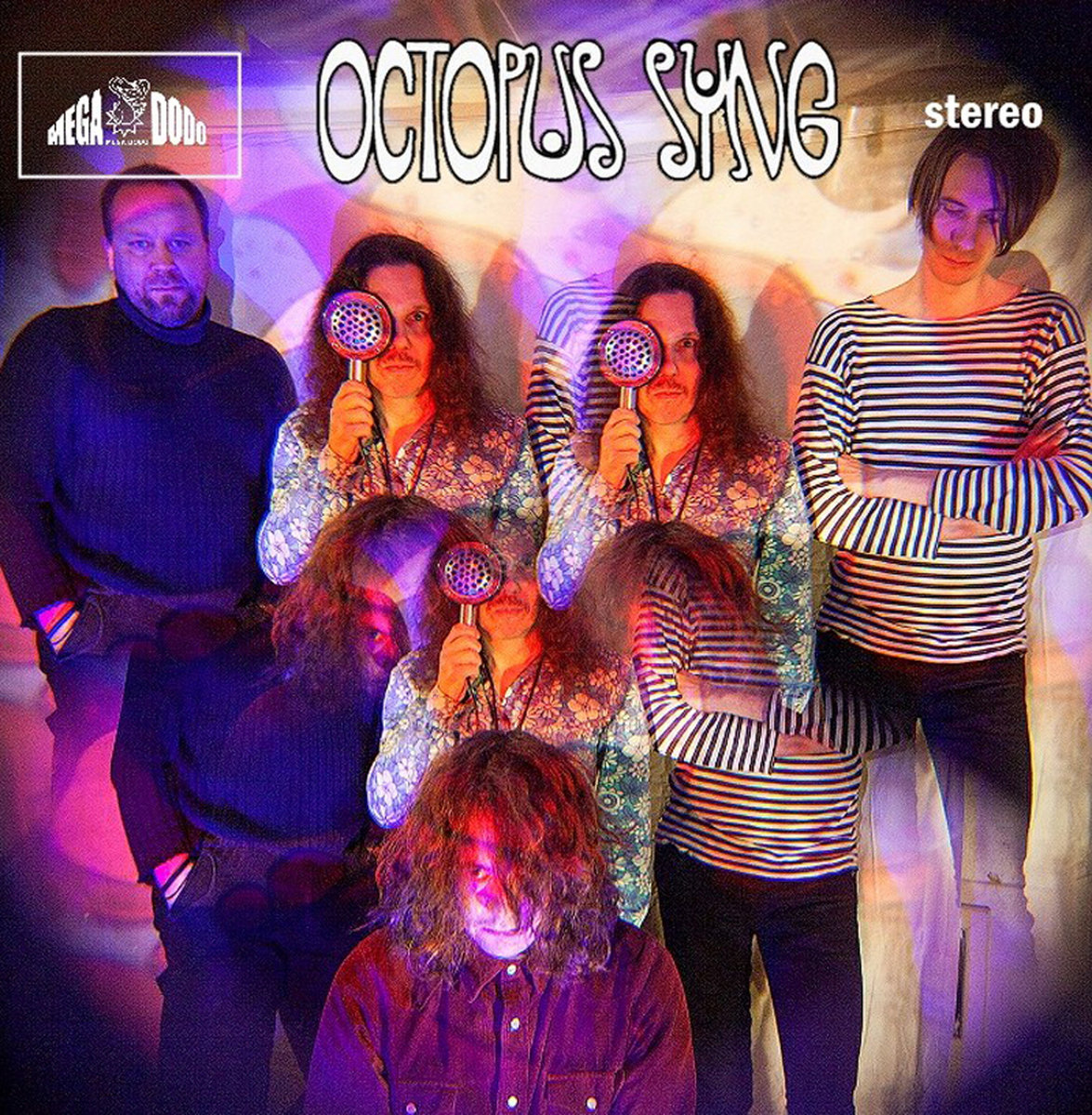 Also available on Mega Dodo as part of the Mega Dodo Singles Club or available separately as a standalone 7" single is an alternative version of the track 'Reverberating Garden Number 7' which, if it's possible, is a far more psychedelic than the album version……………..flip the disc and there is an absolutely fantastic cover version of 'Flaming, from Piper At The Gates Of Dawn which is exclusive to this release.
Octopus Syng really don't hide where their major influences lie…………..fans of classic 67/68, lysergically informed English Psychedelia are seriously going to dig this album. Due for release at the end of July on limited edition blue vinyl and silver CD (500 copies of each format) or as a digital download, Hollow Ghost/Rochelle Salt will be available from the usual outlets, distributors and groovy record stores………………….however you can pre-order the album from the Mega Dodo Bandcamp page here http://megadodo.bandcamp.com/album/hollow-ghost-rochelle-salt-3 or from the Mega Dodo website where it is also available as part of various bundles that include either the single or the previous album. You can get hold of a copy of the single (either on vinyl or CD) here http://megadodo.bandcamp.com/album/reverberating-garden-number-7.
THEE PSYCHEDELICATESSEN