Yup……………..it's that time of the year that everybody gets to show off their impeccable music taste with "Best Of" lists…………..as this is subjective nonsense we prefer to do a round up of our favourite records. Although we have featured 20 albums in our 2016 round up which we have already posted on Facebook, in our very personal review up of all the astonishing music released in 2016 we have also included our favourite live album, compilation, reissue and single along with mentions for a bunch of great records that missed the cut for the featured 20 mainly in order to keep the whole thing manageable…………………In our egalitarian psychedelic universe all the albums here are of equal merit, there is no "best of" or "essential records", it's just a case we like some records more than others. We have included quite a few records that were not reviewed on Strange Things when the were released for various reasons and have used this round up as a chance to catch up with them. Hopefully we will turn you on to some great music you may have missed…………as well as the obvious great records that have made more or less every end of year list we have included a few of the lesser known Psych/Garage records and a few curve balls just to keep it interesting……………………..if you follow the links they will take you to websites, YouTube videos or our original Strange Things Are Happening reviews. Other opinions are readily available.
The Glowing Man by Swans is about the most intense album of 2016 and you wouldn't expect anything else from Michael Gira. Spread over two CDs/six sides of vinyl it's a record not for the faint hearted or ADD sufferers, it needs to be listened to in one sitting to absorb the absolute sonic majesty of this album……..we were unable to review it when it was released on Mute Records in the summer as we felt words were inadequate to do this record justice. The last album from the current incarnation of Swans and a fitting end with one of the best records of the year.
"
The record closes with the aptly titled "Finally Peace," a fitting cap for what Gira announced would be the final Swans album with the current lineup. This and the previous two albums have acted on an almost singular goal of achieving a sense of spiritual ecstasy and enlightenment through heavy, repetitive music, a collection of evolving incantatory drones and crescendos, from the conceptual grandiosity of The Seer, the relentless ferocity of To Be Kind, and the gentler but no less grand or powerful, dare I say, prettiness of The Glowing Man. "Finally Peace" sounds like the most genuinely uplifting song in their catalogue, and it lands remarkably, because after 35 years of flagellation and immersion into the darkest and most troubling aspects of the psyche, it really feels earned, like genuine transcendence is possible. Like an honest-to-goodness real breakthrough has happened. Still, there is a hanging unease, a lack of resolution, ending with a parenthetical question mark (and how, in life, could that not be truer, that a breakthrough is not a finality as much as the beginning of the next trial, on and on until you die). Gira's mission statement for the record, he said, was love. Of course the record is still dark, still heavy, still punishing at times (Hey! It's a Swans record! That's why we love them), but this is also the record that has allowed the most light since Love of Life. The peace, love, and resolution expressed through this brilliant and beautiful new Swans record feels of a genuinely lasting nature
". BACK BEAT SEATTLE
Never before have Causa Sui sounded as deep and mesmerizing as on their 2016 release Return To Sky on El Paraiso Records. With a sound that has been described as "the sound of a giant wave rolling up through the last four decades of rock", Danish four piece instrumental Post Rock/Psych Rock band
Causa Sui
return with a new long-player, their first full length album since the 2013 release Euporie Tide. The first thing you notice with Causa Sui's new album, Return To Sky, is a new Post Rock dynamism added to their sound………whilst still retaining the psychedelic shimmer of their previous records, Return To Sky has several moments of full-on "quite-loud-quite" blow outs with very muscular drums and bass driving hard, it's less Explosions In The Sky but more the sound of Post Rock giants Mogwai and newer Psych Rock bands such as Radar Men From The Moon crashing together in a thrilling sonic collision with early 70s heavy Psychedelic guitar rock. Causa Sui's music is now more earthy and heavy than ever before, but the ability to absorb everything from Shoegaze and vintage Italian film music to spiritual Jazz, Afrobeat and minimalism into its fabric has also matured". Although considered by some people to be Euporie Tide Part 2 this record is much more than that, Return To Sky is the sound of a band pushing the envelope, continually exploring and is one of the most innovative LPs of the year.
Also from the same label, this years album from Landing is a magnificent composite of dense Drone Rock, Electronica, left-field experimental Shoegaze and abstract Krautrock which sees the band right at the top of their game………..as someone wiser than us said "
the whipper snappers these days, trafficking in similar sounds, have NOTHING on their sonic elders. Dreamy, droney, poppy, psychedelic, electronic perfection!
". Third Sight is a 40 minute soak in a warm bath of sonic bliss………an absolutely wonderful record. "Mixing an organic blend of rock instrumentation and analog electronics, Landing have specialized in a mild and rural kind of psychedelia over the course of nearly two decades and despite releasing one brilliant album after another the band remains criminally underappreciated. Perhaps because the trips Landing are taking are too distanced from the hipster's version of Krautrocky drone music. Recent releases have seen them closer to Post-Punk and Shoegaze territory than ever, but Third Sight, recorded specifically for the Impetus series, builds on the hallucinatory soundscapes of the band's earliest days. Third Sight consists of four long tracks of warm washes of blissed out ambience/psychedelia…….think Eno and Bardo Pond playing mind chess while tripping and you would not be far off the mark…….as Landing blend old school, fluttering Electronica which brings to mind Eno's best collaborations in the 1970s with the fuzzy, more experimental Drone Rock from American East Coast scene".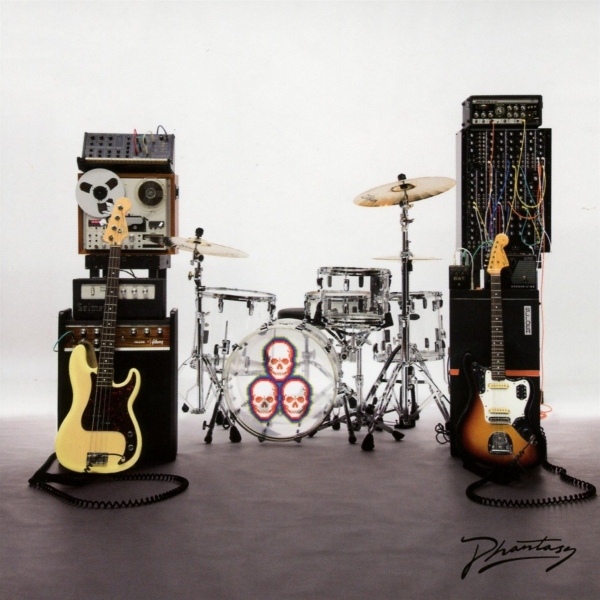 Beyond The Wizards Sleeve are t
he duo of Erol Alkan and Richard Norris who both have a peerless pedigree in the dance music world (with Norris also recording/remixing as the Time And Space Machine) but are also grounded in the Psychedelic Universe and coming from a place where thoroughly modern music meets the psychedelic experience head on The Soft Bounce opens doors to one of the possible futures of psychedelic music. Melding beats to a core of electronic psychedelia, The Soft Bounce is one of the few albums we have selected for our featured 20 that does not directly reference 60s Garage/Psychedelia, 70s Prog Rock or early 90s Shoegaze but merely hints that below the surface of 21
st
century sheen there is something very groovy going on. Best known for their remixes and the "re-imagineering" of 60s Psych classics for the dance floor, this is BTWS's first album of original material and featuring guests such as Hannah Peel, Blaine Harrison (Mystery Jets), Jane Weaver, Euros Childs and Jon Savage it's a seriously accessible record and an attempt to turn on the Indie Kids by stealth.
"
Similar in spirit to The Amorphous Androgynous or
David Holmes
' 2003 Free Association project, they have used vocalists to enable themselves to take a backseat, allowing their studio (ahem) wizardry to lead them into all kinds of areas. Their disdain for genre brackets make for a brilliant debut which fizzes with inventiveness
. There's crunching electro rock with 'Iron Age' and 'Finally First', spacious synth pop on the surprisingly commercial 'Diagram Girl', even an Adele-esque ballad with 'Black Crow', and all of them are pulled off convincingly. What's more, the woozy shoegaze of 'Delicious Light' is dangerous and propulsive, there's jittery loungecore referencing
Stereolab
with
'
Creation
'
, an eight minute cinematic drone piece in
'
Tomorrow, Forever
'
, and of course, a lysergic spoken word headfuck about drugs on the closing track
'
Third Mynd
'. LINE OF BEST FIT.
With a mix of pulsing synths and motorik beats
Josefin Öhrn + The Liberation
are one of the bands most likely to crossover from the psychedelic ghetto and into the "real world". Blending more mainstream friendly Psych Pop tunes with hallucinogenic swirl outs, their latest release via
Rocket Recordings
, Mirage, was an absolute blast. ………..
"
Mirage, which follows a mere year after its predecessor 'Horse Dance', sees the band sculpting sprawling, hypnotic jams into elegant nocturnal serenades which quickly evol
ve into still more enchanting and enlightening strains. True to form, Mirage see the band taking a chic tradition of avant-pop that extends all the way from Serge Gainsbourg and Françoise Hardy to Broadcast and Saint Etienne, and warping it mercilessly to their own darker ends
".
SOUNDBLAB
.
Following the critically acclaimed Horse Dance, Mirage certainly upped the ante with ten remarkable tracks of blissed out modern Psychedelia and throbbing Krautrock that really caught the attention……………6 Music invited the band in to record as session and fans of
Goat
who turned up early enough to catch
Josefin Öhrn + The Liberation opening on their European tour left at the end of the night with a new favourite band.
One of the few essential purchases of 2016.
One of the groovies
t records of 2016 was Moog Maximus by
The Bongolian
released by
Blo
w Up Records
. It was the sound of the summer…………the summer of 1976 that is. The fifth album by The Bongolian (AKA multi-instrumentalist and
Big Boss Man
front man
Nasser Bouzida
) continues the musical journey where 2011's 'Bongos For Beatniks' left off………."
armed with a bank of Moog synthesisers and a bag full of heavy grooves, in a wildly eclectic fusion of Funk, Soul, Hammond Beat, Jazz and Sci-Fi Boogaloo, Moog Maximus takes us on a trip through Latin Prog/Psych, groovy 60s influenced French Yé-Yé Pop, imaginary film soundtracks, Moroderian Space Disco and bubbling Moog instrumentals. Back to analogue and eschewing the cold digital sounds of the 80s, Moog Maximus is a retro romp of funky beats, dancefloor grooves and the warm, rich classic sound of vintage Moogs, swirling Hammond organ, electric piano………..and bongos. There are some absolutely mind blowing tracks on this album……………….featuring Louisa Hygate on vocals, 'Googa Mama' is a delicious slice of 60s influenced Yé-Yé pop with a prominent Hammond groove and bubbling Moogs, it's floor shaker in the style of another technicolour retro futuristic act, the gloriously psychedelic and funky Dee-Lite. There is something here for almost everybody who digs 60s/70s Mod/Psych/Funk and 90s Acid Jazz and with twelve tracks of top quality tunes Moog Maximus is a total delight, mashing together vintage synth sounds with big beats it's a kandy koloured kollision of irresistible grooves, psychedelic pop and mad retro vibes"
…………..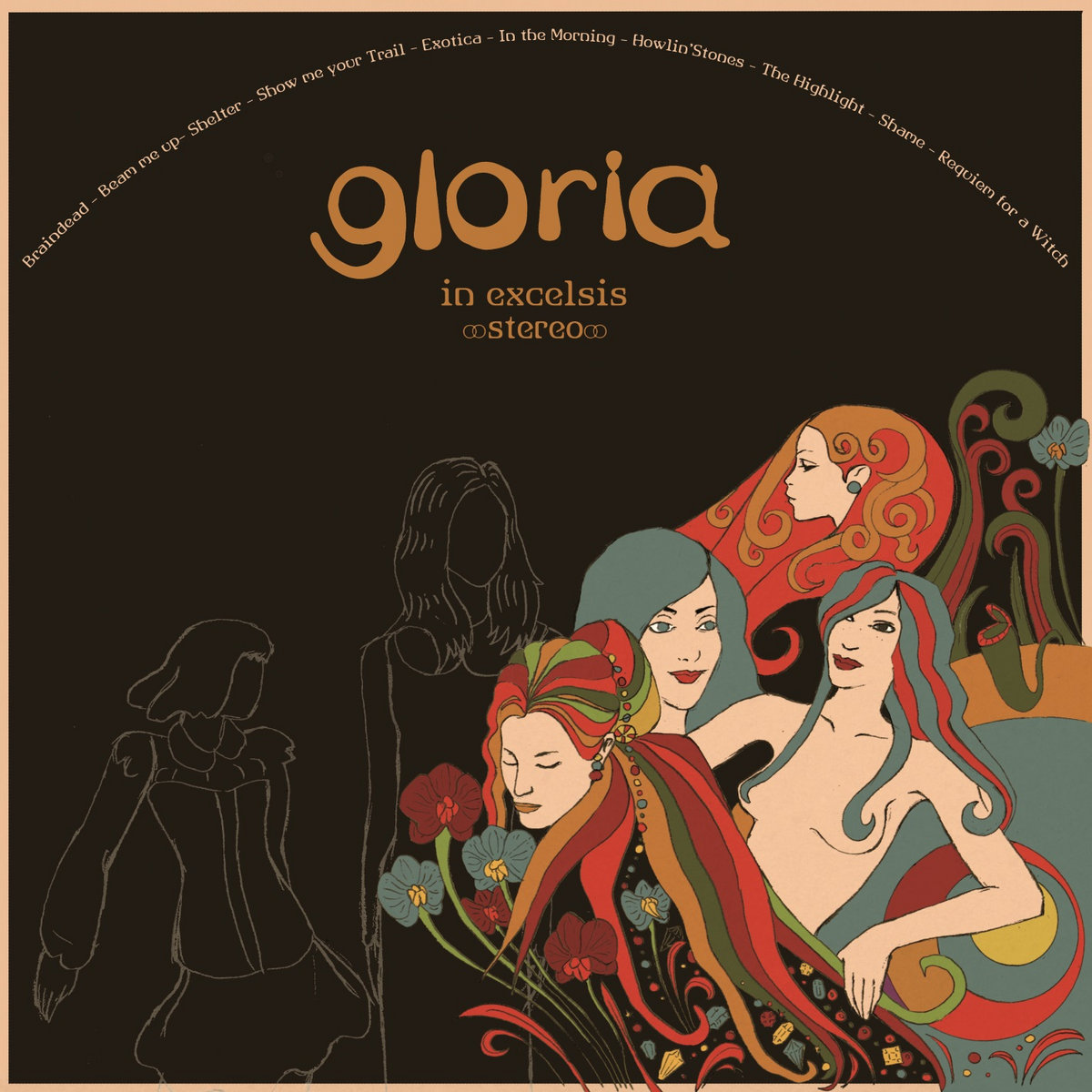 ...........However the grooviest LP of 2016 has to be In Excelsis Stereo by
Gloria
, released by the Paris based label
Howlin' Banana Records
. Fronted by three female singers, Gloria have a sound that can be simply described as "the Shangri-Las on acid".
"
In Excelsis Stereo, is heavily influenced by 60's Psychedelic Pop and especially the girl groups from that era. Dominated by gorgeous harmonies from the female leads and mashing together Lee Hazlewood's pop productions for Nancy Sinatra and Honey Ltd with a harder fuzzed out Nuggets/Garage Rock vibe and a dash of Phil Spector, Gloria's debut is straight outta 1966/67 with a mix of groovy Psych Pop, tough girl group R&B and gentle Folk Rock
". Featuring two of the best tunes you are going to hear all year (the far out 'Beam Me Up' with it's slinky stoned groove and the absolutely brilliant Lee Hazelwood-esque Country Rock vibe of 'In The Morning'), "
t
his really is a astounding debut album from Gloria, the closest comparison we can think off is the Sundowners album from last year although In Excelsis Stereo has more of a 60s "lost album" feel than the Sundowners acid whirl
".
Shunning social media, very little is known about the mysterious Gloria and that's the way they like it, but we can confirm that it is one of our favourite records of the year. Any fans of 60s Psychedelic French Pop and American Country/Folk are going to blown away by this record.
An album we really liked that seemed to slip beneath the radar after it's release in the summer was
Twist Through The Fire
, the second album from Lola Colt. Described as the missing link between Siouxsie & The Banshees and Jefferson Airplane, Twist Through The Fire received polite reviews from most places but nowhere near the critical acclaim their debut on Fuzz Club received. We think it deserves a bit more love…………as the LITTLE INDIE blog said "London's dark tinged Lola Colt put all of their best into this second self-produced album, weaving an often hypnotic psychedelic journey through 60s beat-group pop, film noir-esque channelled into seductive soundscapes suffused with gloom rock. With the standout vocals of frontwoman Gun Overbye and their signature spaghetti Western type sonics, Lola Colt are both as visually compelling as they are on record, which is seen in the likes of the near ten-minute psych-drenched title track, and the hallucinatory 'Eagle', with equal parts stomping beat, vocal harmonies and pulsing sparseness that gives a disconcerting tone to the track". Check it out People.
THE WANDS
There is no doubt whatsoever which record label is our favourite for 2016. London Psych label Fuzz Club have had an astonishing 2016 with a run of excellent releases of the highest quality. There were outstanding LPs from Radar Men From The Moon, The Cult Of Dom Keller, Dead Rabbits ("
One part the noise and chaos of Sonic Youth, one part the sticky sweet haze of MBV and one part the joyous Psych infused Indie Rock of Ride, Dead Rabbits drag Shoegaze kicking and screaming into the now with a new record
") and an absolutely brilliant live album from Dead Skeletons. In addition, there were also a batch of great singles/EPs…………..Italian noiseniks My Invisible Friend celebrated signing to Fuzz Club with a stunning EP of Noise Pop and Shoegaze, The Oscillation and 10,000 Rusos shared a tremendous split single while Al Lover melded genres together with his NEUicide! single. Danish 60s influenced Psych Rock band The Wands returned with a new EP, Faces, "
that is as trippy as anything on the debut album and if anything is more sonically expansive………….existing fans of the band certainly wont be disappointed and those new to the band are gonna have their minds blown. As with the first album, the spirit of The Wands emerges from the 60s and 70s—but it's their ability to reach into the Psychedelic heart of those musical time periods and make something their own without resorting to blatant plagiarism that is simply unparalleled by many other bands. Another fantastic record by one of the best bands to emerge on the Psych scene in recent years
".
Part label sampler, part snapshot of the psychedelic universe at the time of release, Fuzz Club's Reverb Conspiracy compilations are always an essential purchase. Unlike many underground label collections, Reverb Conspiracy Vol. 4 is more than accessible for non hardcore PsychHeads "
featuring some great bands from all over Europe that have been making waves over the last couple of years or who are tipped to make a big splash in the coming months. Collecting together twelve relatively recent tracks that cover the full neo-psychedelic spectrum, Fuzz Club have put together another gem of an album full of absolute killer tracks of the best mind melting, twisted, swirling Psychedelia currently on offer
".
Including current Fuzz Club signings
TAU
,
10000 Russos
,
The Orange Revival
,
Throw Down Bones
and the exceptional Italian Noise Pop/Shoegaze band My
Invisible
Friend (who have
grown into
"
a beautiful, sonically complex creature pushing at the boundaries of the Shoegaze genre, where other bands are content just to copy the sounds of 25 years ago, MIF are taking the genre somewhere comple
tely different….taken from their debut EP for Fuzz Club, their contribution to RC4, 'Endless', is a near perfect 10 minutes of glacial soundscaping
"), Reverb Conspiricy Vol. 4 also showcases the best new bands from other labels............."
From Sweden and catching the ear late last year with their debut LP for Rocket Recordings,
Josefin Ohrn + The Liberation
have been tipped for "Big Things" in the future. Reverb Conspiracy Vol 4 features 'Dunes', a choice cut of otherworldly Psych Pop from the Horse Dance album where Synth Pop meets raging guitars. Released on Sulatron Records, Magnifier by Italian Psych/Space Rockers
Giöbia
(a band inspired/influenced by "the lysergic side of the '60s, by exotic mantras and the evocative power of Space Rock") was heavier and darker than their past records, seeing the band move away from a 60s Garage Rock swirl towards a more Psych/ Space Rock sound, drawing you ever deeper into a lysergic vortex of exotic mantras and Sabbathian rituals. Included here is the mammoth 15 minute spaced-out jam 'Sun Spectre' which is one of the best tracks on the album which we described as "a total trip. Hailing from the dark, foreboding swamps of……er……..Saarbrücken, Germany and raised on moonshine and L.S.D., if Deliverance is ever remade by director David Lynch then there is no doubt the Spook Blues duo
Pretty Lightning
will be providing the soundtrack. 'Graveyard Howls' is an epic hallucinatory Psych/Blues guitar and drums wig-out, it's an heady mix of primal Blues stomp and warped psychedelia as Pretty Lightning's take on the Blues is to tear it apart and put it back together……upside down while twisting it into strange new shapes. Closer to home,
The Oscillation
have been creating some of the best tripped out UK Psychedelic sounds for nearly 10 years now, with a host of critically acclaimed albums and singles under their belts and still making unbelievable mind warping music, they are veterans of the scene. Taken from Beyond the Mirror (Rare and Unreleased Tracks) released on All Time Low, 'Kissing The Sun' is an instrumental driven by a massive bass line not dissimilar to one that underpins The Mighty Lemon Drops 'Happy Head'……..gasp as it dips and soars, twists and turns itself inside out in a 7 minute joy ride to the centre of the mind.
Although Fuzz Club Records have a penchant for apocalyptic psych-outs and all things noise, Reverb Conspiracy Vol 4 is a balanced, extremely well curated compilation. Although there are plenty of tracks that will mess with your head and make your ears bleed it's not all heavy Krautrock inspired freak outs
".................................our favorite compilation album of 2016.
Fuzz Club have also released our favourite reissue of the year. "Before Danish Psych/Post Rock/Shoegaze band
Tales Of Murder And Dust
were properly introduced to the world by the
Fuzz Club
release of The Flow In Between LP earlier this year, they had already self released an album and a few EP's that were well received and got great reviews from the Psych friendly blogs and underground music press. The band's incredible debut album Hallucination of Beauty was originally released in 2012 in a seriously limited number of copies and has been out of print for a few years now gets a long overdue re-issue courtesy of the good folk at Fuzz Club. Whilst their most recent LP is a much more bleak, opiate affair, Hallucinations of Beauty is a deeply psychedelic record propelled by mystical droning rhythms, barely discernable vocals, walls of fuzzed-out guitars, orchestral violins and far-Eastern sitars, transcending the realms of Drone, Psych and Shoegaze to bring a darkly gothic sounding, atmospheric collection of songs that are completely mesmerizing".
Now signed to Heavenly Records, Night Beats followed up their 2013 break out album Sonic Bloom with the far more polished Who Sold My Generation. Still a reverb soaked Psych Blues band, the new album saw the really trippy 13
th
Floor Elevators vibes of Sonic Bloom dialed down a notch. Heading now towards the more commercially viable ground occupied by the likes of The Black Keys and BRMC but still keeping an authentic 60s Garage Rock feel, "
The sound of Who Sold My Generation owes a lot to Robert Levon Been of Black Rebel Motorcycle Club, who perfected the two-inch-tape authenticity at his analogue recording studio in Los Angeles. The band tracked everything live (apart from the odd overdub) and have crafted an exhilarating, hedonistic modern psych album that means the album doesn't just pay homage to a lot of the great influences mentioned, but sounds just as good
"……….however it's on the road where this record really came to life.
During their UK tour in support of the new album
Fuzz Club
invited Night Beats to spend one of their days off at Lovebuzz Studios, an analogue studio in South London, to record a live session………"
The Night Beats Fuzz Club Session captures the band at their electrifying best……..a raw, stripped back to the bone recording of musicians operating at the peak of their powers, hardened by weeks on the road. Night Beats' brilliant session boasts five tracks from their most recent LP Who Sold My Generation, one from 2013's Sonic Boom and a raw, fuzzed-out rendition of Bo Diddley's blues classic '
Mama, Keep Your Big Mouth Shut
'……….Night Beats take hold of the 1964 R&B classic and completely own it, easing it seamlessly into a set of stunning Psych Blues. It's a headrush as the band tear the place down at maximum Rock 'n' Roll velocity with their white-knuckle R&B and soulful Psychedelic tendencies making for a truly insatiable performance. All the tracks are balls out, ferocious fuzzed out single takes with no overdubs whatsoever and an gives an authentic representation of what a powerful live band Night Beats are. Stripped of the production sheen of the original studio recordings, the tunes from Who Sold My Generation ('No Cops', 'Burn To Breathe', '
Bad Love
', Power Child' and a storming '
Sunday Mourning
') benefit from this "back to basics" approach and have more of a intense, claustrophobic Psychedelic feel
".
In hindsight, we really did not give The Mean Solar Times the fifth album by Spanish Psych band
STAY
the love and attention it deserved. Not really being able to fully get our heads around it after a few listens not really digging the mid 90s vibe, we did not review it on Strange Things but posted a quick mention on Facebook describing it as "what Kula Shaker would sound like if they weren't shit". Since then we have finally gotten it in all it's Pop Psych referencing glory and think describing any new band as sounding anything like the K-Men is grossly unfair. However, it is a record that is seriously influenced by the 90s/early 2000s approach to Psychedelia……with
Andy Bell
(Ride etc.) guesting on guitar and The Verve/Oasis producer Owen Morris at the controls, STAY
channel the more Psych inspired 90s bands
with influences taken from the early
Verve
EPs when they were dreamy and Psychedelic,
Oasis
after Noel had finished plundering Rubber Soul and the White Album and started nicking bits of Revolver and Sgt. Pepper wholesale, the funky squall of the
Stone Roses
,
Paul Weller
's more trippier moments,
Ride
and the other British bands that were re-imaging 60s Psychedelia pre and during the Brit Pop era (and were mainly signed to
Creation Records
). Although this is probably the most Indie/Psych album of our featured 20 and is nowhere as demanding as the records influenced by Sonic Youth, Neu!, MBV and Spacemen 3, it is still a very enjoyable if you like the more well known Pop Psych bands from the era. When STAY are good, they are very good with the track 'Mind Blowing' being, well, mind blowing……………….a track that is a mix up of funky drums, groovy bass, driving Hammond organ and tripped out guitar and sitar. A truly outstanding tune that even has an 'I Am The Resurrection' wig out coda with wah-wah guitar and stinging sitar that is as funky as hell. Psych purists will probably hate this record but there is a place for The Mean Solar Times in our favourite records of the year. Released by
Picture In My Ear
in the US and available from
EXAG
records in Europe. K by Kula Shaker?????? You can pick up a copy on CD at most charity shops and Poundland will usually have a few in stock.
After a recording career spanning over 25 years, Chicago's psychedelic elder statesmen
The Luck of Eden Hall
surpassed any of their previous records and have come up with an album, The Acceleration Of Time, which must be regarded as their finest to date. "
Falling somewhere between early 70s Prog Rock and full blown headswirling Psychedelic Rock, this record really should carry some kind of warning……… exposure to TLoEH's sprawling double album masterpiece will most certainly lead to a seriously blown mind. Mixing up authentic vintage sounds (there is an absolute ton of lush, sweeping Mellotron on this record) with a modern Psych Rock sheen TLoEH have crafted a very Proggy wide screen vista with plenty of off kilter psychedelic moments that both "Classic Rock" purists and wild eyed psychonauts will love to bits…………it's Yes, mid-period Floyd, King Crimson etc. etc. stripped of any pretentious musical over indulgence with an abundance of added kick-ass Rock 'n' Roll attitude
".
It's about time…….
"
The Luck Of Eden Hall's vaguely conceptual new record charting how time appears to speed up during the passing of the years opens with 'Slow', a peel of chiming/ticking clocks leading into a squall of swirling guita
r
and dreamy keyboard swell which sounds not unlike a third cousin, twice removed, of the lead track from the Dukes Of Stratosphear's seminal mid 80s 25 O'Clock EP
"
.
The Acceleration Of Time is full of old school analogue keyboards sounds which give the tunes greater depth and texture, from bubbling synths intertwining with soaring guitar to gorgeous Mellotron washes which come to the fore on the epic Prog Rock inspired instrumentals on this alb
um. "
As well as wide screen, panoramic 70s Progressive Rock inspired tunes, The Acceleration Of Time also has more than its fair share of grandiose Psychedelic Rock tunes that TLoEH are known for which combines the Power Pop sugar rush of bands like the Raspberries with the twisted psychedelia of the 60s, with tracks like 'The Happiness Vending Machine' coming on like Cheap Trick on a drug bender. This is a seriously impressive record full of dark and shade but also massively uplifting………..by spreading over four sides of vinyl TLoEH have taken the opportunity to use this extended canvas to really expand sonically, from the symphonic thrash of 'Another High Speed Blowout' through the beautifully lush 'Arthropoda Lepidoptera' and 'Only Robots Can Search The Deep Ocean Floor' to the gentle psychedelia of 'The Saints Are Quiet Above Us' they show what can be achieved in the studio with great ideas, a fair bit of dedication and expert musical chops. This truly remarkable album closes with the wigged out 'A Man Of Conservative Style' where TLoEH throw in the psychedelic kitchen sink adding layers of strange to an already berserk Psychedelic Pop number
". The Luck of Eden Hall may have single-handedly fully restored the tarnished reputation of the concept album with this release on Headspin Records…………it's like Tales Of Topographic Oceans never happened (how we wish that was true).
This epic record was followed up by some classy 7" vinyl action as part of the
Mega Dodo Singles Club.
"
Inspired by the author Neil Gaiman's book Ocean At The End Of The Lane and "pays tribute to the classic psych singles of yore, with lush guitars, plenty of echo on the vocals, the warm sound of the mellotron and a rhythm section with an uncanny gift for melodic fills" and the B-Side, an alternate version of 'Blown To Kingdom Come', a track from The Acceleration Of Time
". We think it is fair to say that The Luck Of Eden Hall had a pretty good 2016……………
BABY WOODROSE
Apart from the pockets of psychedelic resistance from true acid
children
around the the world, 2016 has seen a serious shift away from 60s influenced bands and mirroring musical history the Psych bands are getting HEAVY much like the original Psychedelic bands bulking up at the turn of the 70s. Away from the heavy Stoner bands that were recycling retro riffs from 1971 there were some really interesting 70s influenced heavy Psych/Blues albums that caught our ear this year…………….
So you say you want a revolution????…………Freedom is the 7th album by Baby Woodrose, released on Bad Afro Records more than four years after the previous album Third Eye Surgery came out in 2012 and is one of the angriest records we have heard for quite a while. After six albums of swirling, acid soaked Psychedelia are back with an album which reflects on the current state of our society and how it affects us all.…..consciously or not.…….and introduces the
modern slave song
, so let's not talk of love and flowers and things that don't explode, Baby Woodrose have used up all of their magic powers trying to do it in the road and are now as mad as hell. Stylistically the Baby Woodrose 60s inspired period seems to be now over and they are now screaming into the 70s with a much heavier sound. When asked what inspired the songs Lorenzo Woodrose replied "The inspiration for the album came from the title track, a cover we have been playing around with for about a year. Mostly known for the version Richie Havens improvised on Woodstock in 1969". A brutal assault on the senses "Freedom has all the swagger of the Stooges at their most majestic, summoning the spirits of the Ashton brothers.………..it's an absolute wild ride of riffage and squall evoking the the best of late 60s/early 70s Heavy Psych with tracks such as 'Reality', 'Open Doors', 'Mind Control Machine' and 'Red The Signpost' all hitting the spot. With modern Neo-Psych being more about escaping into inner or outer space we tend to forget that 60s Psychedelic Rock was not just mood music for Chelsea pot parties but the soundtrack to protest…….their version of Freedom falls somewhere between a howl of anguish and a call to arms".
Fresh from the "Down Underground" comes the second album from West Australia's
Datura4
.
"An album that is really going to appeal to lovers of classic Blues Rock, Hairy Mountain takes most of its cues from the post psychedelic/pre Metal early 70s where souped up, full tilt boogie was king. Chock full of loud guitars, this is the culmination of a lifetime of musical archaeology and the ongoing search for the never ending riff".
With 10 solid tracks of lager guided melodies and balls out Rock 'n' Roll they have come to party like its 1969, evoking the spirit of bad-ass biker bar boogie bands with the swagger of Blue Cheer, The James Gang, The Allman Brothers and their Southern
brethren.
The absolute masters of retro Psychedelic Blues are the thrilling Radio Moscow. Released by Alive Natural Sound, their Live In California is our favourite live album of 2016 and it is a total tour de force of deep down and dirty heavy rock and soaring psychedelic swirl. "
For those in the know, the San Diego based
Radio Moscow
are one of the best Psychedelic Blues/Rock bands on the planet. The power trio led by Stratocaster genius Parker Griggs have found THE formula………. powerful, crunching Sabbath style chords and fiery solos that earn the right to be called Hendrixian which plants its flag firmly in the territory where Psychedelic Rock and cranked-up Blues meet. Taking the essence of the best late 60s/early 70s heavy Blues Rock bands such as Cream, Blue Cheer, Jimi Hendrix Experience, The Groundhogs and Taste while remaining completely relevant, Radio Moscow are an amped up joyride to the centre of the mind. With material pulled from all their previous four studio albums and featuring new arrangements, their album Live! In California was recorded absolutely live (no overdubs) over two nights at The Satellite club in Los Angeles in December 2015. The album contains 76 minutes of the trio's unique brand of high-energy Psychedelic Rock 'n' Roll which will blow the mind of any guitar heavy "Classic Rock" disciple
".
GLITTER WIZARD
Our guilty pleasure of 2016?????? It has to be the outrageous Glitter Wizard. On their new album, Hollow Earth Tour, they channel the early 70s sounds of Hawkwind, Deep Purple, Uriah Heep, UFO's early Space Rock albums and classic Black Sabbath in a blizzard of Hard Rock, Glam, Prog and Space Rock. "
With a knowing wink and tongue slightly in cheek, but not far enough to go all Spinal Tap on our asses, Wendy Stonehenge, Doug Graves, Lorfin Terrafor, Kandi Moon and Fancy Cymballs (nearly the best name ever for a Glam Rock drummer…………..Sparks drummer Dinky Diamond takes the prize) have fun with the genre with a album chock full of classic rock riffage and songs about reptilian overlords, underwater fascists, and inner-earth explorers, a record that can only be best described as leaving "lipstick stains on the rim of a bong". Glitter Wizard can't be taken 100% seriously when they name check alien conspiracy theorist nutjob David Icke on the cover, however Hollow Earth Tour is a fantastic heavy Psychedelic Rock album from the realm of demons and wizards that really should have a Roger Dean designed cover. Purists may sneer, but we love this record
".
One of the most stunning debut albums from a UK band this year has to be the self titled LP from Psychic Lemon. Being the jaded PsychHeads that we are, it is very rare nowadays that a record stops us dead in our tracks and we have to drop everything and listen………..the first album from this Cambridge Psychedelic Rock band
was one such record and it only went and completely blew our minds. Recorded in their own studio in the back of a small garden, 5 minutes down the road from Syd Barrett's old place, Psychic Lemon make music "you can dance to sometimes, and get lost in always". Taking inspiration from 70s Prog and Krautrock, mixed with more modern influences such as Goat and The Heads, Psychic Lemon crafted a claustrophobic psychedelic squall of an album. "
Psychic Lemon's headswirler of a debut record is a relentless sonic assault from start to finish only letting up for a moment for the Floydian shimmer of 'Analogue Summer'……….it's a barrage of thunderous drums and pulsing bass lines underpinning scorching, tripped out guitars. Opening with the driving 'TiCkToK', Psychic Lemon have recorded one of the most assured debut albums we have heard for quite a while, songs taking their shape from classic Prog and the more jazz/improvisational based European "progressive" sounds from 68-73 have been stripped of any excess and have been infused with a new urgency. On '
Death Cult Blues
' howling guitars face off with what can only be described as "Jazz flute"……..there is no escaping the early Prog influences but they are from the more kosmik German school of improvised sonic adventures than the "flash rock" of the likes Jethro Tull. The more recent Psych Rock influences can be heard on tracks such as 'Dilator' and the epic 'Horizon' which are swirling slabs of 21st Century Psychedelic Blues. We have recently been bemoaning the lack of genuinely exciting new British Psychedelic Rock bands breaking out, but Psychic Lemon really look like they may be the real deal based on this fantastic debut album
".
DOOMSQUAD
We have decided to keep our round up of 2016 to 20 featured albums mainly to keep the whole thing manageable, however there were loads of other great releases that in any other year would be shoo-ins for our favourite records of the year. Here are a few records that we really liked but just fell short of the 20……………….
Canadian band Doomsquad took Dream Pop to the next level with a stunning blend of Shoegaze and Electronica driven by poly-rhythmic processed beats and even managed to get the reclusive Mary Margaret O'Hara into a recording studio for the first time for ages. Their album Total Time was picked up for release in the UK by Bella Union………………."
Teleporting from the Ontario forest to the New Mexico desert, and swapping their debut album Kalaboogie's cavernous reverb for up-close and physical bass thump, Total Time is the next stage of
Doomsquad
's evolution from accidental folk experiment to technicolor dance utopianists
".
Stereolab were one of the first 90s bands to build their songs around the now ubiquitous motorik groove of Neu!………………….with Stereolab now split, the founder member of the band, Tim Gane has been involved with other musical projects including Cavern Of Anti-Matter. Void Beats / Invocation Trex is a continuation of sorts. Still Krautrock influenced, the album is made up of mainly instrumental tracks that Pitchfork described as "mesmerizing and thrilling" and concluded "
It was sometimes unclear when Stereolab's mid-century references were meant as kitsch, but here, Gane & co.'s retro-futurist flashback feels optimistic, as though convinced that the key to fulfilling the promise of a new era were just one perfect rhythm away
".
MONARCH
Released by El Paraiso Records, Two Isles, the debut album from Monarch
is
the perfect head trip for easy summer days…………and all the other days you wish it felt like a balmy July afternoo
n. "
Informed by sun kissed psychedelia and inspired by the more Jazz Fusion influenced Prog Rock bands of the 1970s, Monarch are a throwback to the heady days of the post-psychedelic era where the blurring of boundaries was common and cornucopia of musical styles were up for grabs. Hailing from the fertile Southern California Psych scene, Monarch connect the dots between classic California rock, sweeping Prog Rock soundscapes, languid pastoral Psychedelic jams, explosive Jazz Rock fusion and the vivid, expansiveness of early 1990s British Shoegaze. Two Isles is the sound of a band conjuring new magic from styles of bygone years. It's full of breezy Allman Brothers guitar leads gliding effortlessly on top of subtle, and sometimes not so subtle, Prog-Rock structures
".
Following their excellent debut album, Venera, and records by their more experimental side project
Opium Eyes Of Nico (
Indian and Eastern European influenced experimental music inspired by Spacemen 3 and early Spiritualized) Russian Psych Rock band
Cosmic Letdown
figured out how to fuse both these elements together and recorded In The Caves……an absolute mind melter of a record, released on their own Opium Eyes imprint. "This album is a total trip………………..mixing the meditative vibes of sitar and tanpura with squalling Psych Rock, Cosmic Letdown have created a psychedelic landscape full of subtle textures that share space with acid fueled freak-outs . Although split into 5 tracks on the album, In The Caves works as one continual piece of music as the tracks gently coalesce in an almost seamless flow creating a near transcendental experience………..there are no exceptional stand out tracks as there is a deep symbiotic connection between each section making the album much more than the sum of its parts.......a record which really has to be listened to in one sitting to get the full experience (you don't have to be stoned to listen to it.......but, as the saying goes, it helps). In The Caves is an exceptional record that you are really going to dig if trippy head music like Electric Moon and other "out there" cosmic bands of that ilk are your thing".
There were also some fantastic Neo-Psychedelic albums from Desert Mountain Tribe, Psychic Ills, Chickn, Dreamtime, Moaning Cities, The Limiñanas, a long awaited re-issue of the first EP from Dead Sea Apes and an absolutely beautiful record from Kikagaku Moyo. The band describe their thang as "feeling good music", drifting from meditative, gentle vibes to a more chaotic Psych Rock squall Kikagaku Moyo channel the more "earthy" grooves from early 70s Krautrock bands, such as Gila, Amon Düül II and Bröselmaschine, with tripped out Acid Rock as sitar and swirling guitar intermingle with folk melodies. Kikagaku Moyo have found the perfect balance between beguiling, bucolic psychedelia and full blown Psych Rock wig outs that is both absorbing and thrilling. Crystalline jams like 'Melted Crystal' and 'Fata Morgana' slowly unwind into beautiful, fragile soundscapes to provide contrast to the more controlled chaos element of the band's sound. House in the Tall Grass is a natural step forward for the band and perhaps the most refined example of their style to date. It's the most beautifully chilled out, gorgeously trippy Psychedelic Folk record we have heard this year.
In 2016, German Psychedelic stalwarts Vibraviod celebrated their 25th Anniversary of an ongoing mission to turn on tune in and freak out, seeking new highs and revelations, turning on the universe on one planet at a time. After 25 years of beaming far out 60s influenced Psych Rock records back to Earth, they dipped into their extensive back catalogue for an introspection of the years 2000-2013, Psychedelic Blueprints, which covered their far out releases for the very groovy Stoned Karma Records. This was quickly followed by a new record, Wake Up Before You Die which saw Vibravoid taking up where they left off with their 2013 album Delirio Dei Sensi and continuing their journey beyond the beyond with a collection of new studio recordings, some groovy cover versions of classic Psych Pop and recently recorded live tracks. "With their patent mix of 60s influenced psychedelic swirl and more experimental spacey explorations, in a world where many new bands are channelling post-psychedelic 70s Stoner Rock, Vibravoid are keeping the faith and still have their membership cards for Middle Earth".
Also on a 60s trip were English acid dandies The Higher State, whose album Volume 27 released on Texas label
13 O'Clock Records
is a swirl of Byrdsian Jangle Pop, Garage Psychedelia and lysergically altered 60s Folk Rock which vibrates with the authentic grooviness of a rave up at the Whisky A Go Go circa 1967. "
The Higher State tear through twelve tracks of sharp, tight, fuzzy Psych Pop which all have the feel that they are previously undiscovered 60s gems. Suffice it to say that this is an undoubtedly brilliant record, absolutely crammed with fabulous songs with no filler whatsoever…………………..a must listen for all the Nuggets/Pebbles heads out there who dig the sounds of The Seeds, The Byrds, Dylan and the Electric Prunes
".
If you are looking for comparisons,
trippy Philadelphia acid heads
The Orange Drop inhabit the same paisley planet with bands such as Asteriod #4, Elephant Stone, Kingdom Of The Holy Sun, Holy Wave and The Luck Of Eden Hall where the 60s are a starting point and not a destination, blending dreamy psychedelia with some darker, acid-soaked sound
s. Stoned In Love is a kaleidoscopic whirl of Orange Sunshine inspired psychedelia mined from the same psychedelic rock face that the Brian Jonestown Massacre have been extracting precious stones for quite a while. Mix in a strong early Floyd influence and lysergic freakouts then you get a groovy record that mixes the experimental with a solid Pop Psych foundation that will blow minds and give the third eye a good squeegee. "The Orange Drop have covered Pink Floyd's 'Julia Dream' (a post-Syd B-Side written by Richard Wright that most people will know from Relics) and have swirled the absolute shit outta it………the Floyd vibe is also evident on the tripped out to oblivion 'The Curse Of Kukaku' which shares some DNA with 'Echoes' and is an absolute headswirler of track which is no doubt the best cut on an album full of great songs. This is possibly the best Mega Dodo release this year, stoned in love indeed………….Turn on, Tune In and Trip Out with The Orange Drop"
.
SONS OF THE VOID
Although mainly concentrating on doing internet radio nowadays, the tiny American independent label
Sunrise Ocean Bender
only released three albums all year but they just happened to be three of the best albums of 2016, two of which make our featured 20 and another that was merely a whisker away…….just missing the cut by the toss of a coin was the far out
Sons Of The Void
self titled debut.
Sons Of The Void
is the latest project from David Max (ex Tadpoles, Psychic TV) in collaboration with guitarist Nick Nobody and their debut album was one of the most mind bending, psychedelic albums released all year……….a proper acid infused psychedelic record and an oddity in 2016, in a year where a great deal of Psych Rock was effectively 70s heavy rock dressed up in groovy threads, "
Sons Of The Void take their inspiration from the sonic experimentation of the Sixties (the "golden age of psychedelia"????) following the path where the journey to the centre of the mind coexisted with the primal force of music but have made it relevant to the now………it is music fuelled by the finest psychotomimetic and hallucinogenic drugs known to man as opposed to cheap speed, mushrooms and whiskey
.
Opening with a headrush of sparkling guitars, the Suns Of The Void debut album takes you on a twisted trip through eight acid drenched tracks that at their core all have a rock solid pop sensibility, it's as if pop history has been rewritten and the Byrds made lo-fi records with Timothy Leary".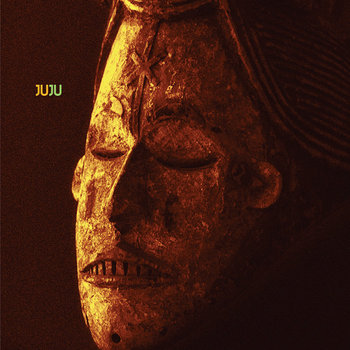 Last seen playing guitar with Josefin Öhrn's touring band, it's been a busy year for Italian multi-instumentelist
Gioele Valenti
, who has previously recorded under the name
Herself
several records of apocalyptic folk lo-fi songs and was also a member of the
Lay Llamas
for the recording and touring of their Ostro album. His most recent release as Herself was the Gleaming EP, a fantastic collaboration with the
Laissez Fairs
(the Las Vegas based maximum Mod/Psych band formed by John Fallon ex of the legendary Irish/American 80s Psych band The Steppes)and there is a new EP in the pipeline. His album
JuJu
is a project that is blend of Psychedelia mixed with raw, visceral Afrobeat and more contemplative piano pieces, inspired by sources of Earth magic and soil secrets. Landing in May, the JuJu album is "
an excursion into the Psych Magik of West African rhythmic psychedelia, ancient myths and Mediterranean neo-paganism. Mixing African grooves with distorted Psych Rock, the new JuJu release is a concept album of sorts, telling the story of an on-going exodus from Africa that more often than not ends in ignored tragedies at sea, 'a total defeat for humanity
.'" At full throttle, combining pulsing bass heavy AfroPsych grooves, a sound not unlike the mighty Goat's shamanistic rituals, with relentless motrik beats and swirling, distorted guitars JuJu was one of the most thrilling records released this year
.
Now a real, live touring band keep 'em peeled for JuJu playing a venue near you next year.
Originally released on cassette in 2015 in a seriously limited edition run of only 50 copies (which is about the number of people who still own a tape deck) from the great little Swedish boutique tape label
Zeon Light
, Sunnrise Ocean Bender's CD release of
E GONE
's Advice For Hill Walkers is technically a re-release SOB have done such a massive reconstruction job on the album, remixed and remastered by Kevin Moist from Evening Fires and lovingly repackaged with gorgeous new artwork, we are considering it to be 2016 release.
Advice To Hill Walkers is "the best E GONE release to date…………this is not a gentle Psych Folk Sunday ramble up a few hills, but more of an epic psychedelic trek through the mountains where you may need oxygen at some point to complete your journey. Musically, it's a stunner………. an all-instrumental travelogue of an upward trek through a rugged landscape (as literal or metaphorical as you'd like), twelve station points mapped out across endlessly varied ethno-electro-psychedelic terrain, blending ethnic percussion and Hip-Hop beats with subtle electronics and Eastern vibes, it's not that far away from the records that Nation (the original home of Loop Guru and Transglobal Underground) released in the early 90s, but much more for the head than the dancefloor. Yeah, we know that tapes are fashionable and have a certain hipster friendly novelty value about them, but you have to admit that for anything other than lo-fi Indie and messy Garage Rock they are a bit shit………the cassette release of the album did it no favours sonically and the remix/remaster brings out the depth and subtlety of the record previously unheard, there can be some comparisons made with wonderful Kevin Moist produced Psych Folk album To Preserve The Mystery by United Bible Studies that has the same complex sound structure of drones and relatively sparse instrumentation. If you were one of the few people who heard the original tape version, you will be blown away by Advice To Hill Walkers 2.0.
" An absolutely astounding record and one of the most inventive records of the year
.
Sunrise Ocean Bender may only be a small little label operating out of Richmond, Virginia but the love and care that they put into their record releases is second to non.....................quality before quantity.
Legendary UK Neo-Psych Godfathers
Sun Dial
are so far ahead of the curve when it comes to Psychedelic Rock, it really is quite astounding……………not ones for following, but always innovating, Made In The Machine can be considered as another of the many possible futures for psychedelic music. Now signed to
Sulatron Records
, they have found the perfect home for their blend of Psych Rock/Krautrock/Space Rock and following the CD re-issue of their mind melting LP Mind Control, 2016 saw them return with their first new record since 2012. Founded in 1990 by multi-instrumentalist Gary Ramon, Sun Dial blazed a trail with their debut album Other Way Out which practically blew the doors off the universe………the impact of this record has redefined how we now see psychedelia in the 21st century. With an ever changing line up since 1990, Sun Dial have mutated and evolved over the years into the still massively influential Psych juggernaut of today. "
Still exploring the same themes as Mind Control, Made In The Machine delves even deeper into the surrealistic worlds of sci-fi and Space Rock with a hard electronic edge and like the previous album "It's an album that pushes hard at the boundaries of Space Rock taking the listener to a point in the galaxy where atmospheric electronic soundscapes, motorik grooves and languid guitars converge in a molten mix of psychedelic sounds", it's a mix of modern Space Rock and forward thinking Krautrock over two slabs of vinyl which is miles ahead of the bands who are still trying to get their heads round Neu! 75, Space Ritual and the debut Suicide album. It's stupefyingly good and no doubt destined to appear on most end of year "best of" lists. Sun Dial albums don't come along very often nowadays, but when they do it has been well worth the wait
".
ELECTRIC MOON
It's been another good year for Sulutron as the label goes from strength releasing some of this year's best psychedelic music…………….along with the Sun Dial albums and reissues from
Electric Moon
and
Interkosmos
, there were a couple of great records from
Astral Son
and
Sula Bassana
. Shipwrecked by Electric Moon guitarist Sula Bassana is an album of Krautrock inspired alien soundtracks "
evoking the sounds of the 70s/early 80s pioneers such as
Cluster
,
Klaus Schulze
,
Harmonia
,
Conny Plank
and
Kraftwerk
,
Michael Bundt
,
Popol Vuh
, the early kosmische sounds of
Tangerine Dream
, spilling over into the primal post-punk electronica of
Cabaret Voltaire
and
Throbbing Gristle
. It's a record from an age before computer music, full of electronic drones, pulsing drum machines, sweeping soundscapes, throbbing sequencers and dreamy, spiraling synthesizers that has both a rhythmically intense brutality and pure transcendental serenity
".
Astral Son
(AKA Dutch musician and painter
Leonardo Soundweaver
) completed a spaced out trilogy of albums with the fantastic Mind's Eye. "
Influenced by
Gong
,
Ashra Tempel
,
Pink Floyd
,
Hawkwind
and
Brainticket
and beaming in from the edge of the Galaxy. the third Astral Son album is a kaleidoscopic blend of mind bending Space Rock, sprawling Acid Rock and propulsive Krautrock which fans of old-school 70s Prog/Psych are really going to dig. Mind's Eye channels the vibe and spirit of classic "head music", raiding the far out archives of U.A., Virgin, Ohr and Brain records for inspiration…………..break out the bong Space Cadets, it's one hell of a trip. Creating spectral, alien soundtracks with dense layers of fuzzed out, distorted, treated guitars and pulsing synths, Astral Son has absorbed the best elements of the more experimental sounds of the 60s and expertly mixed them with the cosmic soundscapes of the early 70s
".
Sulatron unearthed an absolute gem with the debut album from Italian Neo-Psych band
Sherpa
. "
Tanzlinde is a real grower……. with it's translucent sounding psychedelic swirl, it becomes better and more intense with every listen. There is a woozy somnambulist vibe about the record, it's hazy psychedelic shimmer more than evident on tracks such as 'Elven', 'Dubinuska,' 'Tanzlinde' and the wonderfully atmospheric 'Of Coke And Steel' Opening with drones and cascading guitars 'Sherpa' builds into a full blown Bill Laswell style Eastern headswirler with Arabic female devotional wailing spinning around a pulsing Sahara desert blues groove, and the Laswell comparisons continue with the beautiful 'Big Foot' where East meets West in a bustling Cairo street market. Sherpa's debut LP is stunningly accomplished and it's twelve tracks radiate with the same special fragile beauty of all the best blissed out psychedelic records
".
While the Psych/Blues Rock monster
Samsara Blues Experiment
have been taking a bit of a break,
Christian Peters
has been making solo recordings under the moniker
Surya Kris Peters
. "
U
nlike the heavy Stoner Rock/Psychedelic Blues vibe of SBE these recordings are way more introspective, contemplative and evocative collection of music inspired by Krautrock, meditative Indian music and the sounds that soundtracked his earliest musical memories. Built on layers of instruments including various synthesizers, Fender Rhodes, electric organ, rhythm machines and electric and acoustic guitars along with more traditional/esoteric instrumentation including Irish bouzouki, sitar, harp, reed organ, gong, Tibetan singing bowl and bodhran, The Hermit is an album of eight aural explorations that invoke the early days of electronic music and the kind records that Virgin Records put out in their formative years along with the classic 1970s releases from Brain/Ohr records, to which Surya Kris Peters adds his own perspective creating warm, lush soundscapes that are both rooted to the mystery and magic of Mother Earth and from far beyond the stars……….Simply put, this is music for the higher spheres
". The Hermit is a record of rare beauty which caught our ear immediately and a wonderful introduction to the music of Surya Kris Peters. Compiled from two previous digital only
Electric Magic records
releases (Status Flux and Moonstruck) "
it's a record that takes in influences from a range of artists such as French synthesizer drone-minimalist Eliane Radigue, 1970s Krautrock-pioneers Tangerine Dream, Cluster, Ash Ra Tempel, Popol Vuh and Klaus Schulze, sounds from the Far East from the likes of Osamu Kitajima, Tomita and Ananda Shankar and early 70s British Prog/Experimental musicians such as Fripp & Eno, Mike Oldfield, Tim Blake and Steve Hillage but without being an exercise in nostalgia………it is a record that harks back to an era of ground breaking sonic experimentation but with a feel that is distinctly contemporary
". Collecting together choice cuts from his two most recent EPs on vinyl for the first time, Holy, Holy, Holy is the second album from
Samsara Blues Experiment's
Christian Peters as his sonic shaman a
lter-ego Surya Kris Peters and is due for release early January 2017.
Coming from very much the same direction as the Surya Kris Peters LP, Space Rock Productions released the second stunner of a record from West Space and Love.
"
Six years after the release of West Space and Love Vol.l, the three key members ( ØSC
's synth guru Dr Space and current and former members of the Swedish Heavy Prog band
Siena Root
, Love Forsberg and KG West) reunited in a studio to lay down some 70s krautrock influenced tracks for a brand new album. Whereas the previous collaboration was more of an acoustic, Indian music inspired album with five sitar based tracks that were totally improvised, Vol.ll is far more synthesizer based with WS&L conjuring up soundscapes that take inspiration from bands such as Tangerine Dream, Pink Floyd, Popol Vuh and Agitation Free. Another major difference is that this record is less of a collection of improvised pieces, having far more focus and a much stronger structure from more judicious self-editing than previously. It's a fantastic listening experience as it twists and turns through the dimensions in sound, taking in early 70s Krautrock, Eastern flavoured Space Jazz, post-Psychedelic Pink Floyd, Indian music inspired improvisations and experimental percussion pieces………..we suggest you roll a few before this one hits the turntable
". An album of real restraint from musicians more used to jamming until the tape runs out and better for it…………………"
it's a postcard from Sufi mystics with Wish You Were Here writ large. West Space And Love Vol.ll is an absolutely stunning mix of the not so very Far East and the very Far Out, blending together the core elements of pioneering early 70s German electronic music and evocative Eastern influences mixed with a substantial amount post Syd acid burnout and pre Roger Waters megalomaniac dickhead Pink Floyd which flows beautifully from start to finish………fans of the more spacy Psych bands, 70s ProgHeads and children of the bong need to check this record
".
The comeback of the year has to be the triumphant return of
Gong
. "
We must admit that we approached the first
Gong 
album since Daevid Allen passed to a higher plane with more than a little trepidation. There had been a fair bit of dread and cynicism about when it was announced that there was a new album being recorded by the band that featured on Allen's final Gong LP, I See You……….was it going to be a tawdry trashing of the Gong legacy that had endured so well over 45 years of musical ebb and flow through dozens of line-up changes??? Absolutely no need to worry………Rejoice! I'm Dead! is a fitting tribute to the late Bert Camembert and a continuation of the freewheeling spirit of this legendary band. Consider it to be "Gong: The Next Generation", a band with an impeccable Prog/Psych pedigree, where the funky grooves, avant-garde flourishes and counter-cultural stance of the timeless early 70s "Virgin Trilogy" band are safe in the hands of ex Cardiac and current Knifeworld leader Kavus Torabi (vocals/guitar), Brazilian glissando wizard Fabio Golfetti (guitar/vocals), long term Gong family members Dave Sturt (bass/vocals) and Ian East (sax/flute) along with Cheb Nettles (drums/vo
cals)
". An album that delivered way beyond expectations, possibly Gong's best record for quite a few decades and "
this is not purely an nostalgia trip but a fully formed modern Psychedelic Rock LP taking the essence of Gong forward and further out. Some say it couldn't, or shouldn't, be done. How could Gong exist without Daevid Allen? A few minutes into listening to Rejoice! I'm Dead! any aspersions will be cast aside. This is undeniably Gong
". It's a glorious celebration in honour to the much missed
Daevid Allen
and
Gilli Smyth
, founders of this wonderfully unique and influential band
.
Another band making a critically acclaimed return was Irish duo Tir na nOg, often considered as one of the first progressive folk bands with other artists like Nick Drake or groups like Pentangle and The Incredible String Band ,they have been described as Alt Folk, Prog Folk, Psych Folk, and even Space Folk! Returning with their first studio album in 42 years, The Dark Days album reintroduced Tir na nOg to the more discerning music lover and 2015 ended on a high when Classic Rock magazine voted their album The Dark Dance number 3 in its best albums of year. Tir na nOg played an album launch show at The Half Moon in Putney last year to showcase the new songs from The Dark Dance along with some old favourites……….fortunately the tapes were rolling during this show and the good folks at
Mega Dodo
released
Live At The Half Moon
this year
, an album that captures the spirit and vitality of their stunning live performances.
Live At The Half Moon is an absolutely brilliant Prog/Psych Folk record that fans of the band will to love and one that serves as an excellent introduction to Tír na nÓg for newer listeners.
One thing that really bummed us out about 2016 was the amount of crappy metal bands masquerading as Stoner/Psych Cosmonauts, thinking that extending brutal noise wig outs to 20 minutes and beyond was in anyway Psychedelic and "
after spending most of this year listening to loads of bands that either sound like Neu!, Sonic Youth and Suicide fighting in a sack or Sabbath on a serious come down……..some excellent, some good, some not so good…….hearing Attack from Lancastrian Space Punx
Three Dimensional Tanx
is a jolt to the system. It's a full on barrage of unpretentious Nuggety Psychedelic Punk Rock that is part Stooges in space, Astral travel with the Buzzcocks, The Doors and The Damned jamming on one of the moons of Jupiter and The Ramones on acid (not such a weird concept, check out The Ramones Psych covers album Acid Eaters) and what it lacks a little in focus is made up in spades with sheer energy. With Doorsy keys, ferocious Punk guitars and a brutal Rock rhythm section, 3D Tanx sound like an amalgamation of every great Psych Rock/Garage Punk band from the last 50 years and at the same time like nothing you have ever heard before…………songs are stripped down to their pure essence with any excess trimmed right back to the bone and most of the tracks clocking in around a mean and lean 2 minute 30 mark. Basically, 3D Tanx are a Punk band playing Space Rock and once you get your head round that, Attack really makes sense. Truly fantastic stuff and if you are starting to tire of bloated, indulgent pseudo Psych Rock then you need to get your ears round this. 12 great songs in around 35 minutes then 3D Tanx are outta here
"………… It's great D.I.Y Space Rock with attitude, as if the Ramones had been put in charge of the NASA moonlandings.
THE BONE MACHINE
Thee Psychedelicatessen love Garage Rock………………The home of Italian Garage Rock is Area Pirata Records. Part of a wider Psych/Mod/Punk/Ska mail order distribution outfit, Area Pirata Records specialise in releasing music by Italian Garage Rock and Freakbeat/Mod bands and 2016 has been an excellent year for their limited edition releases. The pick of this years crop has been Garage Rock records by
The Bidons
,
The Bone Machine
,
Gentlemens
and
The Barbacans
.
The Bone Machine
are a three man wrecking crew playing electrifying, amped up, primitive Psychobilly/Rockabilly, Garage Rock and Punk Rock Blues. With an extensive discography from 17 years of recording which includes several singles, EPs and tracks on compilations, their latest album Sotto Questo Cielo Nero (Under This Black Sky) is the fifth full length release from the band. "
Mixing together the Rockabilly sleaze of
The Cramps
and pre-Nuggets Garage Rock with Voodoo Blues and an image that takes in everything from Weird Tales monster comix to Hot Rods and pneumatic devil girls, The Bone Machine are Lucifer's very own bar band, hanging out in the same disreputable Juke Joints as the
Jim Jones Review
,
The Birthday Party
, the
Detroit Cobras
, the
Gories
and the
MC5
. With their true identities hidden behind Mexican wrestlers masks, they answer only to the names Jack Cortese (guitar, vocals), Big Daddy Rott (double bass) and Black Macigno (drums), Bone Machine emerged from the primordial ooze in 1999 playing the dirtiest Rock 'n' Roll this side of Satan's pit of fire. Imagine The Cramps in the grip of a psychotic episode, a twisted Johnny Burnette Trio on acid, zombie Elvis from beyond the grave and Fred Hammond possessed by the spirit of Jack the Ripper, then you come close to the experience of a wild ride with The Bone Machine. With lyrics in Italian telling half hallucinated visionary tales of demons, alcohol, sex and zombies, it has been said that "listening to The Bone Machine is like smoking marijuana from a plant that has it's roots in Hell
"
".
"
Blending the UK Mod/Freakbeat/RnB sounds of 1966 with the Garage/Punk vibrancy of 1976 and pitching up around 1986 during the Neo-Psychedelic revival,
The Bidons
are a Rock 'n' Roll force of nature. Infused with the energy and drive of bands such as
The Flamin' Groovies
,
The Plimsouls
and
The Fuzztones
, The Bidons are a distillation of maximum Mod/Garage/Psych grooves that come screaming outta yer speakers at full velocity blowing your both your mind and
your cool
". The Italian Garage Punks third full length album, Clamarama, is twelve tracks of pure, electrifying Garage Rock inspired by Punk Rock urgency, Power Pop sensibility, the Psych/Garage/Surf sounds of the 60s and a R&B/Freakbeat cool mixed with the rough essentialness of Rock 'n' Roll. "
Play loud and lose your shit to The Bidons
".
GENTLEMENS
"
Hailing from Ancona,
Gentlemens
are a no nonsense, back to basics Punk Rock Blues trio that sound like a bar fight between
The Cramps
and the
Jon Spencer Blues Explosion
. Their debut album Hobo Fi is a raucous affair with 13 tracks of maximum Rock 'n' Roll guaranteed to blister paint on the walls of any sweaty basement blues dive. It's a raw and visceral record of primal guitars and drums………. Gentlemens don't pull punches and don't take prisoners as they tear though a bunch of fantastic high octane bluesy Garage/Punk tunes. It's a 100 miles per hour joy ride in a stolen convertible with a body in the trunk……..it's the
Black Keys
before they hit pay dirt, a slightly less scuzzy Cramps, the Blues Explosion ripped off their tits and
Pretty Lightning
after giving up
acid for Lent
".
With a gigantic wave of fuzzed up guitar, wailing Farfisa organ and a cool rhythm section,
The Barbacans
are a Garage band that have the spirit of
The Seeds
and
? & The Mysterions
, the essence of Nuggets, the Psych/Punk vibe of the Damned appearing as
Naz Nomad & The Nightmares
and the Tone of both Flesh and Fuzz. "
The Barbacans' third album, titled A Monstrous Self-Portrait, it is a blast of classic and timeless Psych, Surf and Garage Rock and as with their previous albums, Italian Garage Punks The Barbacans have a sound that has seeped through a crack in time from the suburbs of Anywheresville USA sometime around 1966………raw, psychotic and very snotty………and it's brilliant. The Barbacans are kindred spirits to the wave of 80s Post Punk Psych/Garage bands that had just stumbled across Pebbles and had their minds blown. It is obvious that they have a love for the music from the mid 60s, however they put their own spin on it and are not trying to rewrite '96 Tears'
".
THE ACE
We don't get sent enough singles to cover on Strange Things, but we will review EPs and always give 7" releases a mention on Thee Psychedelicatessen's Facebook page. One of the best singles from 2016 was the swansong from Leeds Mod/Psych band
The Ace
…….The single's release is a weird tale of a band doing everything backwards (it must be a Yorkshire thing). In the process of splitting up after slogging round the pub, clubs and Mod rally's for several years, the band finished recording their final album A Riot Of Sound in 2015 which first appeared as a "name your price" freebie on the excellent very cool Swedish Power Pop/ Mod/Surf/ Punk/ New Wave/Northern Soul internet radio show/boutique label
Ice Cream Man Power Pop And More Records
Bandcamp site with a CD release earlier this year. After turning down gigs and offers to work Shel Talmy, the band finally got it together to release some final vinyl with the The Ace on wax for the first time. The excellent 'I Dream Love' c/w 'Man Out Of Time' 7" hit the racks via Crocodile Records with the band getting more attention than ever…………..
Shindig!
called it a record that "
Fans of The Action, The Creation, The Jam will want to give this monoaural gem heavy rotation
". A case of "too much, too late"??? There were also some great 7" singles from
State Records
with releases from freakbeat legends
The Embrooks
, proto-Glam/Punk trio
Thee Jezebels
and Power Pop/Psych maestros
The Galileo 7
plus we loved the debut 7" single from Salisbury Garage/Psych Rockers
The Neighbourhood Strange
which came out on
£.s.d. Records
this summer.
There were some great, quirky singles released by
Mega Dodo Records
……………..since the start of the year they have been running the exclusive Mega Dodo Singles Club with records from
The Honey Pot
,
Octopus Syng
and the mighty
Luck Of Eden Hall
with a single from Swedish Acid Folk duo
Us & Them
arriving January 2017. However their biggest coup was to license the rarely heard John Peel session recorded by Vivian Stanshall's short lived early 70s Prog/Psych band
biG GRunt
…………"
Broadcast on 21/3/1970, the biG GRunt Peel Session saw the band perform four tracks of mostly brand new material, each of tune as exciting and invigorating as the initial promise had suggested and totally justifying the buzz around the band at the time. 'Blind Date', a track later to turn up as a the B side of a cover of the Elvis Presley tune 'Suspicion' by Vivian Stanshall & Gargantuan Chums, is typical of the mannered, over-articulated material Stanshall would write for the Bonzo's. Revisiting the Avant-Jazz shronk of '11 Mustachioed Daughters', a hypnotic and rhythm-heavy track with strange lyrics concerning witchcraft, paganism and voodoo which had originally appeared on The Bonzo Dog Doo-Dah Band's second album "The Doughnut in Granny's Greenhouse" in 1967, biG GRunt retool the tune as an Beefheart-esque psychedelic wig out with dynamic guitar riffs, funky bass and massive drumming underpinnng Stanshall's demented vocal delivery. This is a tantalizing taste of the direction that Stanshall and biG GRunt may have taken if the band had lasted more than twelve months…………ditching the vaudevillian whimsy of the Bonzo's and moving towards a heavier, far out "Art Rock" sound which has a proto-Prog/Psych vibe, it is unknown whether biG GRunt actually recorded any more material in the studio, but it's tempting to speculate what may be gathering dust in the vaults. Also recorded for this session was 'The Strain'……..another song associated with the Bonzo's which turned up on the lacklustre 1972 contractual obligation reunion album Let's Make Up And Be Friendly. The track that is going to get the hardcore Bonzo/Stanshall fans drooling is the final track on the EP, the previously unreleased instrumental 'Cyborg Signal'. Although its melodic motif would later form the basis for 'Strange Tongues' on Stanshall's solo album Men Opening Umbrellas Ahead, 'Cyborg Signal' has, up till now, not been heard since the session was originally broadcast……………………unlike anything you would normally associate with Viv Stanshall, this track is a Progressive Rock outing to the stars and back in time for tea, cramming more interesting and complex compositional ideas into a five minutes than some early 70s bands managed over six sides of vinyl
". Our favourite single/EP of 2016
and "
what is surprising is that these tracks remained in the vaults for so long with the Bonzo's/Innes/Stanshall outstanding work from the 60s/early 70s has never being recognized with a full on, deluxe packaged retrospective box set when lesser lights of that era have had every single note of music of varying quality exhumed…….it has taken the musicologists at Mega Dodo to unearth this gem
".
TERRY DOLAN
Searching in dark, dusty corners for oddities and obscurities from long gone imprints and releasing records, lovingly repackaged, that would otherwise remain mainly unheard, Mega Dodo are not the only custodians of the great Psychedelic Lost And Found Dept. American re-issue label High Moon Records, following the release of some great Gene Clark and post Elektra Love rarities (including the fabulous deluxe vinyl/CD release of the 1974 album Real To Real) dug at a bit deeper into the vaults and unearthed a couple of previously unreleased gems in 2016.
The
Terry Dolan
album is a lost "classic" featuring a "Who's Who" of the San Francisco music community with a great early 70s Soul/Rock feel in the vain of the Stones, Delaney and Bonnie, Leon Russell and Little Feat, it's criminal that it was gathering dust in the Warner's vaults for so long.
"
Remastered from the original source tapes, complete with extensive liner notes and many archival photos, High Moon issue
d
for the first time the 1973 debut album from SF Singer/Songwriter Terry Dolan that was recorded for Warner Bros. with a whole host of "heavy friends",including Nicky Hopkins (The Rolling Stones, Quicksilver Messenger Service), John Cipollina (Quicksilver Messenger Service), Lonnie Turner (The Steve Miller Band) and Neal Schon (Santana, Journey), before being unceremoniously binned a couple months before it's cited release date
". There was also
a real rarity from "second wave" SF band Marvi
n Gardens "
that took up the slack in the bars and clubs when the SF scene's heavy hitters (Jefferson Airplane, the Dead and QMS ) graduated to the halls and ballrooms and were a real melting pot of musical styles mixing Folk Rock, Blues, Gospel, Rag-Time/Vaudeville and Acid Rock with a large repertoire of material, including songs by Buffy Saint Marie, Odetta, Bob Dylan, Lead Belly, Hoagy Carmichael and an eclectic and seemingly-endless range of pre-war Blues,Country and Folk numbers………….Marvin Gardens were never going to expand your mind but after a few beers and smokes they were guaranteed to be great entertainment".
We loved the re-issue what is now considered one of the best Acid Folk long players from the end of the 60s. "
Released in 1970, Oriental Sunshine's only album, Dedicated To The Bird We Love, was greeted with only fleeting interest outside their homeland but the enduring mix of earnest acoustic Folk, Jazzy arrangements and authentic Indian vibes has stood the test of time………………..it's gentle laid back grooves and hazy stoned ambience still sound fresh over 45 years since it's original pressing".
One of the most interesting re-issues of 2016 was a "
collection of 70s Krautrock rarities from the Pyramid label……a label with such an obscure history, that when these recordings appeared on the three Unknown Deutschland - The Krautrock Archive CDs released on Virgin during 1996 their authenticity, fuelled by internet conspiracy theories, was very much in doubt with the rumour being that they had been recently been knocked together by a bunch of Kosmische jokers cashing in on the 90s Krautrock revival. Cologne Curiosities – The Unknown Krautrock Underground 1972 – 1976, cherry picks the best of the Virgin CDs and presents these tracks together for the first time on vinyl. Cologne Curiosities collects together music inspired by Pink Floyd, Gila, Cluster, Hawkwind, Ash Ra Tempel, Amon Düül II, Popol Vuh and Cosmic Jokers as the first part of a series of reissues of the entire Pyramid catalogue
".
IMMAD WASIF with TWO PART BEAST
Currently playing with LA based Space Rock trio
EFG
, up to now guitarist
Imaad Wasif
has had quite an interesting and varied career on the fringes of the US Alt Rock scene…..amongst other projects, he was previously a member of
The Folk Implosion
and part of the
Yeah, Yeah, Yeah's
touring band. He has also recorded some very cool solo albums that combines both elements of Psychedelic Folk and Psych Rock and his second studio album Strange Hexes, which came out as a self-release in 2008, belongs to the lost gems of contemporary Psychedelic Rock music. Following his more introspective first self-titled solo album which featured minimal, acoustic songs reminiscent of Skip Spence's Oar and Syd Barrett's Opel, Strange Hexes was a "
tense, trippy collection of songs that become fiercely emotional explorations
" and "
unbelievably intense with sparkling, raga-influenced guitar and a mystic bent
" which unfortunately dropped right off the radar. It has always been a mystery why this fantastic record disappeared without trace with only a few Psych Rock heads ever hearing it……………….however the world has been put to right and German Psychedelic/Prog Rock label
World In Sound
gave Strange Hexes the reissue treatment with a new official European CD/LP release earlier this year. "
Recorded with bass player Bobb Bruno (now part of
Best Coast
with Bethany Cosentino) and drummer Adam Garcia under the name
Imaad Wasif with Two Part Beast
, Strange Hexes traces a vein from late '60s West Coat Acid Rock to the more heavy, post-psychedelic, early 70s American guitar bands such as
Neil Young & Crazy Horse
. Taking on board the same 60s/70s Psych Rock influences as
Dead Meadow
,
Black Mountain
,
Golden Void
and
Assemble Head In Sunburst Sound
, this record switches between sonic bliss and bone-breaking intensity with Wasif playing the part of both fragile shamanic poet and wailing guitar God.The standout track has to be 'Seventh Sign, which on the albums initial release was described as "a nearly perfectly crafted nightmare vision of Armageddon that hearkens back to the brooding post-psychedelia of Neil Young's On the Beach". Criminally ignored back in 2008, Strange Hexes is well worth getting acquainted with"
.
GROOVY!!!
Cherry Red
seem to have cornered the Psych rarities CD reissue market with some great box sets over the last few years. This year they dived into the pool of early 80s UK"New Psychedelia", admittedly not very deep in regards to talent but a important bridge between the Post Punk/Indie scene and full blown Neo-Psychedelia. Another Splash Of Colour is a expanded 3 disc box of the original 1981 compilation that featured 13 tracks from coulddabeens and neverbeens that were part of a London-centric scene of a few vintage shops and clubs that was well documented in the super low budget Groovy Movie. The original Splash Of Colour album hit the shops just before the scene really burst out nationwide and featured bands such as
Mood Six
,
Miles Over Matter
,
The High Tide
and the better known
Barracudas
and
The Time
. Most of these bands really sound somewhat dated and shambolic now, but the first wave of New Psychedelia, like most London scenes, was as much about fashion and finding Granny Takes A Trip originals or digging up classic 60s albums from second hand shops than getting a shit hot band together. The expanded Another Splash Of Colour redresses the balance and includes some real classic early 80s BritPsych tunes from
Robyn Hitchcock
,
Nick Nicely
,
The Legendary Pink Dots
, The Soft Boys, Naz Nomad and The Nightmares (The Damned moonlighting as a Nuggets covers band), Blue Orchids, The Prisoners, The Dentists and the the man responsible for turning most of the UK on to 60s Psychedelia, Julian Cope (check his Tales From The Drug Attic piece written for the NME in 1983). The early BritPsych scene was always a bit rubbish as there were not that many outstanding bands at the time (as always, the best new Psych/Garage bands were coming outta the USA.........the Paisley Underground bands were
probably more influential than any of the first wave of UK bands
)………however Another Splash Of Colour is the missing link between the NME C86 cassette and Children Of Nuggets, historically quite important in regards to the development of the UK Indie scene, the rise of Creation Records and the evolution of UK Psych bands and also a full on nostalgia trip if you remember this stuff first time round.
We are not 100% sure where we stand on re-issues, remasters and deluxe box sets……..the obsessive music fan in us welcomes the reissue of records that fell through the cracks first time round and the chance to hear our favourite LPs with enhanced sound quality, however our cynical side sees it as another way of the big labels exploiting the obsessive music fan (they are loving the vinyl revival and are clogging up the pressing plants with crap, with major label reissues taking priority over new releases from the small Indie labels…………..there is no justification whatsoever for releasing Kula Shaker's debut as a deluxe vinyl reissue!!!). As for remasters, fair enough if it is done just the once……..but repeatedly every 5 -10 years, now that's just taking the piss. The Led Zeppelin back catalogue has been remastered at least four times by Jimmy Page, you would of thought he would have got it right first time seeing he has basically done fuck all else since Led Zep split up………. An LP used to be for life…….now there is a remaster every time there is a tweek in the technology and once that path is milked dry there is always the box set of demos and live tracks from tapes found at the back of a draw. If Alex Chilton had wanted a 69 track deluxe box of everything recorded for the Third/Sister Lovers sessions released, you would have thought it would have happened while he was alive. "
The funniest thing about the scheming nature of reissue culture is that it's the people who eulogise physical ownership, those who dedicate the most to their collections and bang on about how vinyl sales are up year-on-year, who are being exploited by the industry
". Ultimately the box sets are firmly aimed at the serious fans who really don't care about the cost and don't mind that they already may own a big chunk of what the box contains. "
As Christmas approaches, you are going to have these albums, deluxe editions and remasters plastered across the leaderboards of every website you visit. So, before you fork out, close your eyes, take a deep breath and think: did the band or label in question put lots of effort into making this a timeless addition to their catalogue? Or is it money for old fuckin' rope?
"
Your band here in 2017?!?!?………….we miss things, actually taking into account the amount of Psych records released in any given year we miss quite a lot of stuff. Apart from regular press releases from PR agencies, records we buy ourselves and the occasional mind blowing record we stumble across we rely on bands/labels to let us know about their releases……………….If you have a record that you think would blow our minds coming out in 2017, please let us know. You can contact us either by our Facebook page or Email (theepsychedelicatessen@gmail.com). We prefer to be sent physical copies of albums, EPs or singles for review mainly because they sound better than digital files played through a laptop and we tend to forget about MP3 once they have been downloaded (LPs/CDs for review go into a pile by turntable/CD player and as Sandie Shaw said "there is always something there to remind me").
Finally, a big thank you to everybody who has supported what we are doing over 2016 and have made this Blog possible……………from the great bands who have been making astonishing music, the possibly quite mad people who have been running fantastic labels out of back bedrooms and garden sheds as a labour of love releasing fantastic records and everybody who takes the time to read our barely coherent scrawl from the psychedelic basement…………….WE SALUTE YOU.