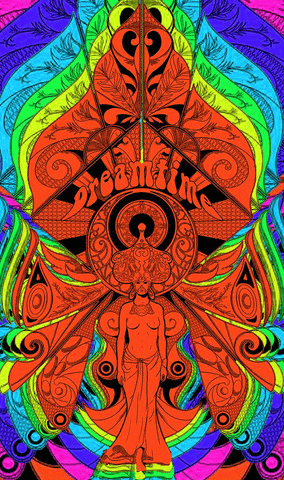 Strange things are happening…….from the down underground and new for 2016 from Captcha Records/Cardinal Fuzz is the release of the first two Dreamtime albums for the first time outside Australia. Hailing from Brisbane, Dreamtime are a heavy Psychedelic Rock band massively influenced by the late 60s/early 70s sonic alchemy from the likes of Brainticket, King Crimson, Black Sabbath, Ash Ra Tempel, Can and Jimi Hendrix along with more contemporary psychedelic adventurers such as Bardo Pond, Dead Meadow, Earthless, The Warlocks and Comets On Fire amongst others.
Since forming around six years ago, Dreamtime have released two full length albums, one EP and a single, and toured along the east coast of Australia, Japan and the United States of America as support to the likes of Earthless, The Shrine, Eternal Elysium, Kadavar, Blues Pills, Earth, Boris, A Place to Bury Strangers and Moon Duo as well as playing at the 2013 Austin Psych Fest…………with a new album in the works for 2016, their star is definitely on the rise and Dreamtime are destined to be one of the next breakout bands from the Oz Psych scene.
Released in 2011 as an extremely limited vinyl pressing the debut Dreamtime album is definitely for fans of seriously heavy psychedelic rock. There is nothing remotely restrained on this record, mixing the frenzied sonic assault of skull crushing, fuzzed out Acid Rock with bad acid, squalling cosmic jams that are inspired by 70s Psych influenced Heavy Rock. This is a snapshot of where Dreamtime were at back in 2011……while there are some really cool tracks brimming with great ideas, this is effectively the sound of a band finding their feet musically and getting their sound together……..the distant rumble of an oncoming storm.
Released a year later, but on the evolutionary scale Dreamtime's second album, Sun, has leaped forward several million years. They add further influences of Eastern Ragas and Tibetan style chants to the 70's Turkish Psych, Kraut and 60's garage they explored on their first album creating a much more satisfying record……….Sun is an absolute mind blower!!! Opening with '
Centre Of Mind', it's pretty obvious that the psychedelic has been ramped up several notches………driven by a languid bass line and bathed in a fug of incense, the track is full of stoned ambience which builds and builds until a swirling guitar brings the track crashing back to earth (watch the video here). 'Baphomet' starts with a mix of ethnic found sounds (Tibetan singing bowls, chants and drones) before the guitars crash in, sending the tune hurtling spaceward at maximum velocity……..a truly astounding track. Eastern psychedelic influences can also be heard on 'The Road' and 'Equivalence', where Dreamtime continue to explore the stoned immaculate grooves of 'Centre Of Mind'……….gone is the stoner rock sludge of their debut album, replaced by something more transcendental and incandescent. Flip the disc and another Eastern flavoured headswirler, 'Brujeria', is sandwiched between two epic extended meditative jams where Dreamtime sound like they are channelling a holy communion between spiritual/psychedelic Australian/British 70s band Quintessence and Bardo Pond. Clocking in at around 10 minutes, the album's title track treads the path that seeks enlightenment through extreme volume while the final track 'Art of Invisibility' is a 13 minute psychedelic masterpiece that takes a battering ram to the doors of perception, bursting them wide open with one of the most tripped out tunes we have heard for quite a while………absolutely brilliant!!!! Sonically, Sun is such a step forward from the first album, they sound like records from two separate bands………………….it's a total psychedelic headfuck of a record that demands to be heard, so kudos to Captcha Records/Cardinal Fuzz for making this record available in the U.S.A. and Europe. We can't wait to hear the new album that is scheduled to be released this year.
Both records are due for release on March 11th and are available to pre-order now from the Captcha Records Bandcamp page at https://captcharecords.bandcamp.com/music for the U.S.A and for the UK and Europe from the Cardinal Fuzz web store, who have a very limited stock so check for availability. Dreamtime and Sun are both available on coloured vinyl (the self-titled debut album has been pressed on pretty pink vinyl and Sun is available on groovy purple/yellow vertigo swirl vinyl) and a very limited run of CDrs housed in very cool handmade sleeves………plus digital downloads are also available from Captcha Records
.