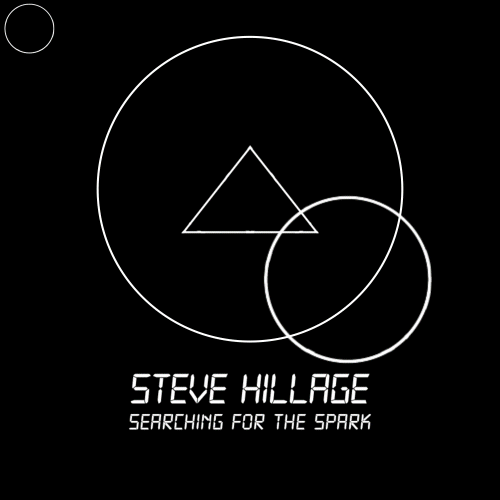 Hot on the heels of the glorious re-birth of Gong and their excellent new album Rejoice! I'm Dead! which continues the legacy of this legendary band after the passing of Daevid Allen, Madfish are celebrating the career of Gong icon, Steve Hillage, with an extensive 22 CD box set release. Searching For The Spark is a comprehensive collection of Hillage recordings outside his time spent as a member of Gong between 1969 and 1991 taking in his studio debut with
Arzachel through to the self-titled first System 7 album with 4 CDs worth of demos and archive recordings, previously unreleased, direct from his own personal collection. Excluding Hillage's work with Kevin Ayers, Clear Light Symphony and Nic Turner's Sphynx, Searching For The Spark collects together the minor Prog classic Arzachel LP recorded with musicians who went on to form the massively under rated Prog outfit Egg, Canterbury scenesters Khan's 1972 album Space Shanty, all eight remastered Virgin Records solo albums with bonus tracks, the getting down with ravers Ambient Techno reinvention System 7 debut plus seven live albums and the aforementioned demos/unreleased tracks. Housed in a lavish box and guaranteed to give postie a hernia, as well as a huge collection of CDs there is a 188 page hardback book, brimming with rare photos, press clippings and reviews documenting Steve's life and high times written by acknowledged Gong expert Jonny Greene. In addition there are 3 reproduction promo posters, 2 lyric booklets, a high quality enamel badge, a 60 page scrap book containing more photographs and press cuttings…………….phew.
This is the modern world…………………many of the heads from the late 60's are all growed up and are groovy pensioners with plenty of disposable income; the ideal market for the massive box sets that are appearing on a regular basis and at £200 (plus P&P) a pop this is not for the financially challenged. Obviously this not essential, but is it worth it………………well it depends. Musically, the solo Hillage peak years were from 1975 to 1979………Fish Rising was recorded when he was still a member of Gong and is not a major departure from the style of the parent band but it was L from 1976 the really propelled his mix of hippy whimsy and Prog Rock into the more mainstream conscious for a short while. Released just when the fuse for the UK Punk Rock explosion was lit, L was an unexpected commercial success going Top 20 in the UK album charts, peaking at number 10. With Todd Rundgren at the controls and the rest of Utopia as the studio band the album mixed George Harrison and Donovan covers with the slick Progressive Psychedelia that Rundgren is famous for. This was followed by two more excellent albums, the much funky, less proggy Motivation Radio (this time with TONTO's Malcom Cecil on board as producer) and Green with Nick Mason producing……………both critically and commercially well received, this period was chronicled on the Virgin released Live Herald album from 1988. Searching For The Spark contains several other live recordings from this period, the previously available Live in Deeply Vale, 1978 plus two BBC performances from The Paris Theatre recorded in December 1976 and November 1979 (with bonus tracks from the Rainbow in 1977) are included along with the previously unreleased recordings of shows from the Brighton Dome in November 1977, Munich in April 1979 from the Hammersmith Odeon November 1979. From what we have heard of these recordings they are all of excellent audio quality (we have been sent the box set sampler CD and have only heard selected tracks………..try blagging a 200 quid limited edition box set from a record label, it ain't easy), however there is nothing here that is a massive departure from any of the previously released live albums (although the Hammersmith Odeon CD includes an early version of Solar Musick Suite recorded live with Gong at Hammersmith Palais October 1974).
For the new generations coming to Hillage through his ongoing work with System 7, Searching For The Spark provides everything needed to explore Steve's unique musical universe, but unless you have money to burn we recommend you get hold of copies of the essential Fish Rising, L, Motivation Radio and Green along with the proto-Ambient Rainbow Dome Music first……………..If they blow your mind then consider buying this beautiful but expensive artefact.
Searching For The Spark is an ambitious, immensely detailed retrospective that is really designed to appeal to hardcore Hillage fans more than anybody else………….the major bait here is that it offers unprecedented access to the guitarist's archives. The Sparks Volumes 1-4 CDs are packed with previously unheard and unreleased tracks, demos and alternate takes. Sparks Volume 1 covers the period from 1971 to 1973 and features a load of unreleased Khan tracks and solo guitar explorations that became the basis for many of the songs on Fish Rising. Volume 2 has demos from the Fish Rising and L sessions, while the third volume is packed with out-takes and demos from 1976 to 1979. Volume 4 takes in the demos from less inspiring early 80's and System 7 recordings…………For the serious HillageHead
Searching For The Spark is really is nothing less than the definitive statement upon an impressively rich and diverse career, for the less committed it's an absolute avalanche of music that is totally overwhelming. We hope that Madfish will eventually release the component parts of the box set separately. We don't know how this would affect copyright ownership issues but it would be really cool that, for example, Green was to be reissued with the relevant demos, out-takes and live recordings included as part of a deluxe 3 x CD or 3 x LP package. As a "thing" Searching For The Spark is an absolutely beautifully packaged Box Set that any serious 70's Prog/Psych collector would want to own………but £200 for effectively 8 CDs of previously unreleased live tracks and demos, that's for you to decide.
Limited to 2500 copies globally, Searching For The Spark is due for release on the 21
st
October and is available to pre-order now from the Steve Hillage
website
, the
Planet Gong bazaar
and the Madfish
online store
…………..start saving yer pennies Pot Head Pixies.