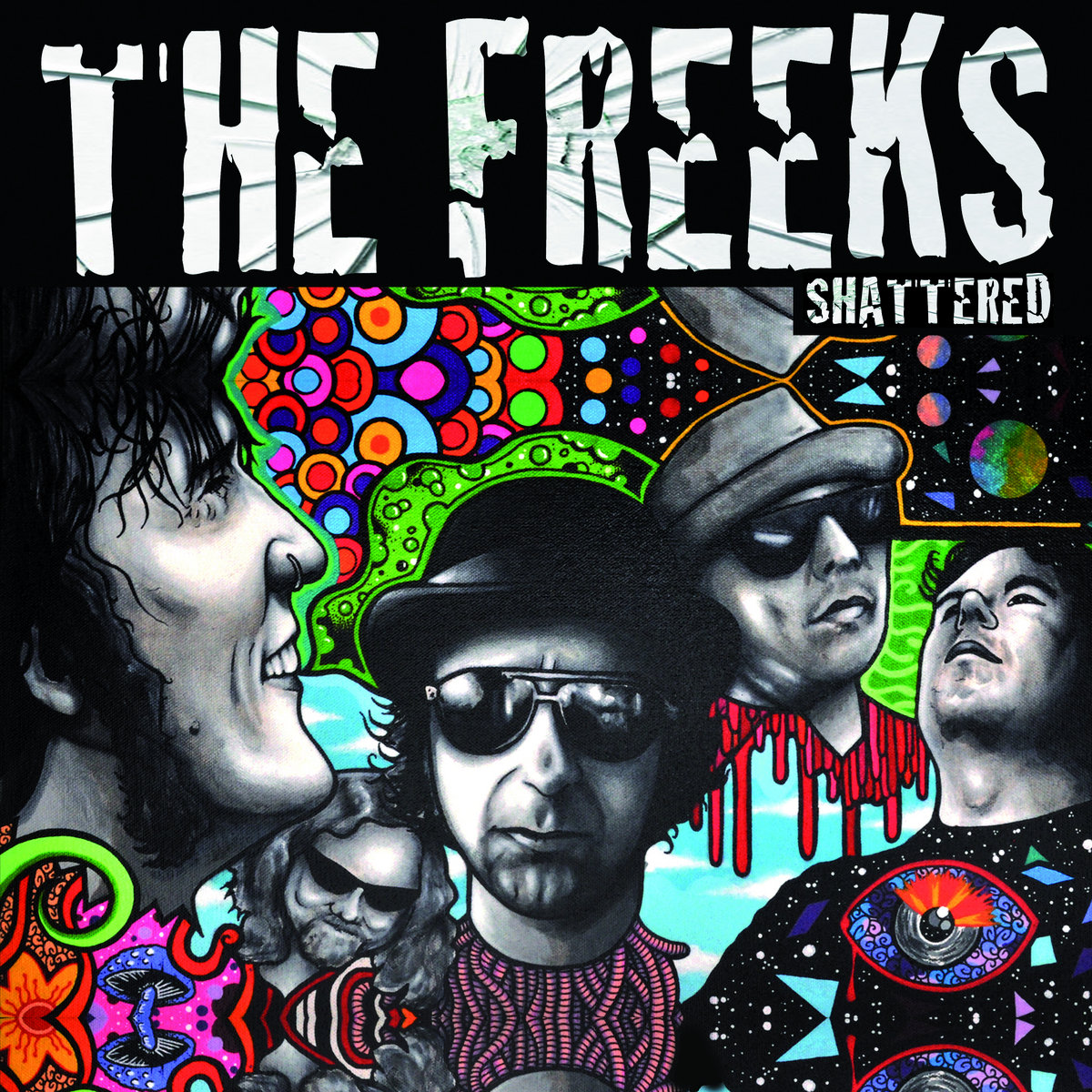 With a new album out on Italian label Heavy Psych Sounds, L.A. rock and rollers The Freeks have come to party and have bought with them a six pack of beers, a bag of weed, an old Damned cassette plus a lot of attitude. With a mix of retro riffs, Garage Punk snarl and bluesy bar room boogie they are going to burn th' mutha to the ground. Their third release, Shattered, is a record that's both densely packed with loud Garage/Punk guitars and spaced out Stoner jams creating a fresh blend of high-octane Psychedelic Punk Rock'n'Roll that has one foot in the past and one foot in the now. Channeling the balls out bite of the Motor City, The Freeks whip up an electric soup of MC5 and Stooges riffs, garnished with Psych Rock inspired classic rock vibes. Psychedelia is a broad church……………The Freeks are outside hurling heavy stones at the windows.
The Freeks brutal 13 song sonic battering ram will not be to every PsychHeads taste, leaning more towards 70s heavy Rock than 60s Psychedelic swirl, but it's as tight as you like and once the fuzz pedals get stomped on there is a great dirty Garage Rock vibe……………if your thing is more of a trip to Death Valley blasted on hallucinogenics than a contemplative journey to the centre of the mind then you are going to dig this band………..possibly. There are some great sweaty Rock 'n' Roll tunes here for the more discerning Garage Rock aficionado………with rolling piano and squalling guitars 'Where Did You Go' and 'Uncle Jack's Truck' are monstrous slabs of dumb as fuck Biker Bar boogie, whereas 'There's No Turning Back Now', 'La Tumba' and 'Space Bar' are more spacey Psych Rock numbers and the album closes with a properly tripped out track, 'Blow Time Away'. Psychedelic Rock 'n' Roll comes in all hues, some more vivid than others………..Shattered is not the greatest record we have heard all year but it's pretty cool all the same.
Shattered by The Freeks is out NOW on Heavy Psych Sounds and is available on limited edition green vinyl or retro 70s black vinyl and CD. Available from most good record stores and the Heavy Psych Sounds store with the download available from the Bandcamp page.............