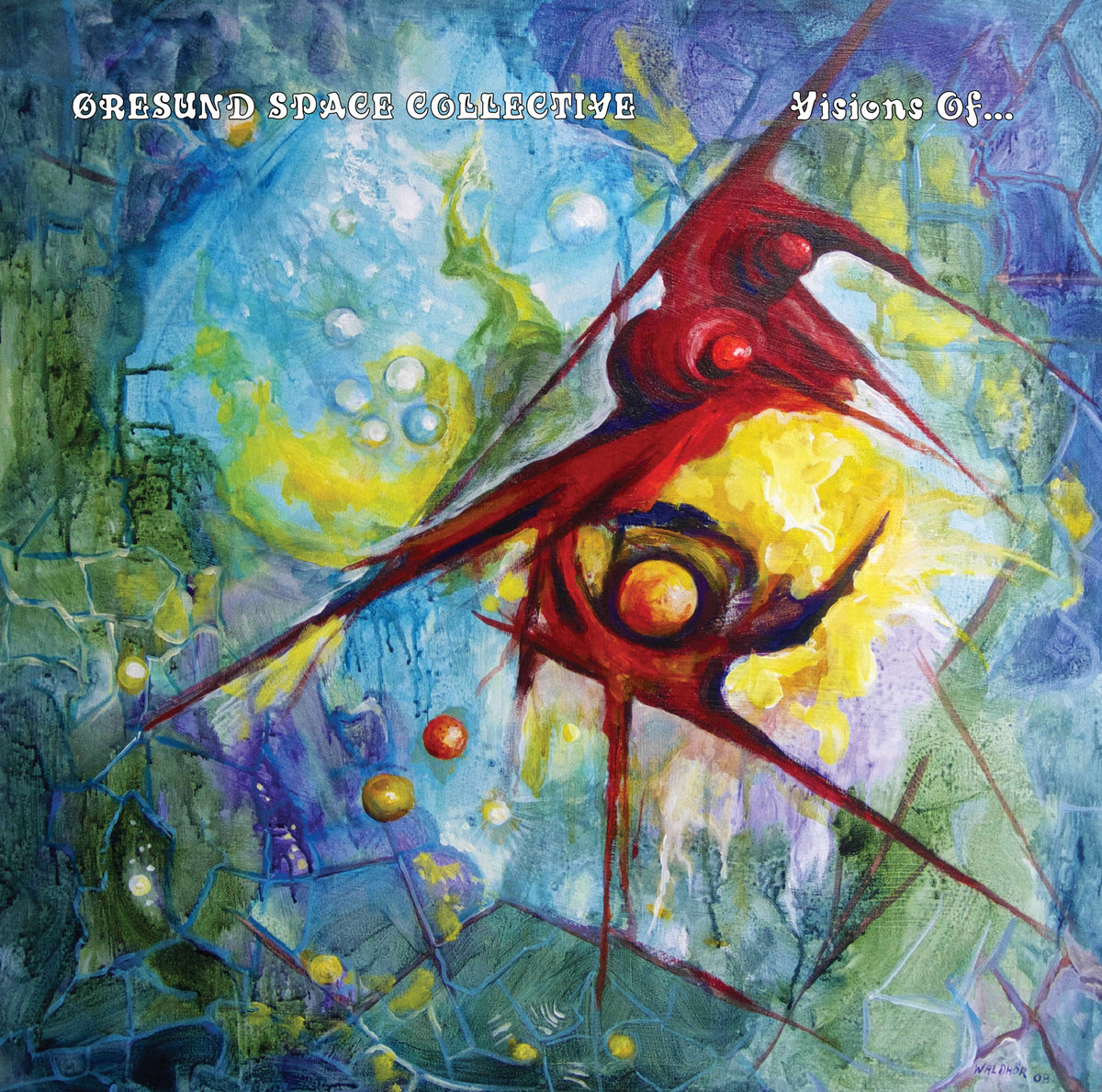 Those of you that are already familiar with the Øresund Space Collective will be aware of the modus operandi of the bands founder Dr. Space……………get the cream of Scandinavia's Psychedelic Rock community in a recording studio, roll the tapes and let the magic happen. Visions Of is at least their 21
st
release of totally improvised Space Rock in just over 10 years and comes from the same prolific 2014 sessions that has already seen the release of two previous albums, the epic QMS/Grateful Dead on Mars triple album Different Creatures and the darker trip of Ode To A Black Hole. Rounding up the remains of these sessions, Visions Of carries four lengthy jams……………….an epic 42 minute Deadhead jam beamed to the furthest corner of space and back again, a tripped out experimental tribal funk groove and a two part cosmic Space Jazz/Funk Rock workout inspired by early 70s Miles Davis.
The albums title track is a seriously unhurried improvisation very similar to '20 Steps Towards The Invisible Door' from Different Creatures………….ebbing and flowing as it reaches it's final destination via the scenic route, 'Visions Of' is intense and deeply psychedelic. Mixing violin with Garcia-esque guitars there is a swirled out East meets West at the Orion Nebula vibe to the track that fans of the band know and love. 'Around The Corner' and 'Above The Corner' are separate sections of the same mammoth Funk Rock jam split into two………Øresund Space Collective usually don't do funky, but when they do, because of the sheer musicality of the players the good Dr. Space has assembled, they piss all over many of the Space Jazz/Funk improvisers out there. 'Around The Corner' is a 16 minute Bitches Brew influenced jam where the members of Øresund Space Collective show off their chops…….full of chunky, funky guitar and jazzy keys underpinned by fluid drums and bass playing, ØSC stretch out once they have locked into that sweet groove. It's very different to much of the other material from the 2014 sessions but their Cosmic Funk excursions are possibly the most interesting tracks here. Featuring a fantastic guitar solo from Jonathan Segal 'Above The Corner' is still very funky but with a harder rock edge and is the perfect squall out to close the album. Sandwiched between the Space Funk tracks is the more experimental 'Piece Of Seven'. It is a except from the much longer 'Jam 7' and is the Øresund Space Collective experimenting with tribal grooves…….editing the track down to around the 8 minute mark has made good sense. It's a bit of a mixed bag of leftovers that didn't quite make the cut first time round but if you really dug the Different Creatures album, Visions Of is the perfect companion piece to that record………..however if your first introduction to the Øresund Space Collective was the dark, brooding Ode To A Black Hole, this may not be your thing.
Before being pulled into the Øresund Space Collective's orbit, multi-instrumentalist Jonathan Segal was best known for being a member of Camper Van Beethoven and still plays with the reformed line up of the band. Now a resident of Stockholm, he has been involved with projects which span the worlds of Psychedelia, Improvisation, Prog Rock, Americana, Electronica and the Avant-Garde. Sista Maj (Swedish for "the last day of May), his current project is a trio featuring Jonathan on guitar, violin and keyboards, from Post Rock instrumental Psych band Kungens Män, Mikael Tuominen on bass and electric sitar and experimental Jazz drummer Andreas Axelsson……..together they have recorded a fantastic album titled Series Of Nested Universes due for release by Space Rock Productions early in December. A double CD of long, mainly improvised, Psych tinged Post Rock instrumentals, Series Of Nested Universes explores many of the same themes as the Øresund Space Collective but is much more grounded on planet Earth than far away in deep space. The pieces range from the jazzy violin led 'Peony Spies' to the tripped out electric and intense 'A Very Heavy Feather', an epic Post Rock improvisation clocking in at around the 25 minute mark. A Series Of Nested Universes is a total trip performed by a trio of excellent musicians that seem to be linked telepathically as the music ebbs and flows taking unexpected turns along the way. Sista Maj do funky and weird with the Space Rock/Krautrock jam 'It Never Ends' being all about the groove but also mix things up with the hypnotic, transcendental Eastern vibe of the album's title track, twisted bluesy rock outs ('Like a Diamond in This Guy') and atmospheric Mahavishnu Orchestra style Prog/Jazz on 'Bones of Steel'. Fans of the Øresund Space Collective will love the diversity of this genre bending record and although the album has an overall dark mood, it is very listenable and not at all overbearingly heavy.
Both albums are due for release on December 5
th
by Space Rock Productions and will be distributed via Sapphire Records in Germany and should soon be available to pre-order from their web store here. Limiited to 500 copies of each format, Visions Of by Øresund Space Collective will be available on CD and 2 x LP in an assortment of different colour combinations and can also be ordered directly from their Bandcamp page sometime soon here
https://oresundspacecollective.bandcamp.com/album/visions-of.
Keep 'em peeled for when Visions Of goes on sale. The Sista Maj album is a 2 x CD release again limited to 500 copies and can be pre-ordered now from the Sista Maj Bandcamp page
http://sistamaj.bandcamp.com/
where you can also purchase the digital download.