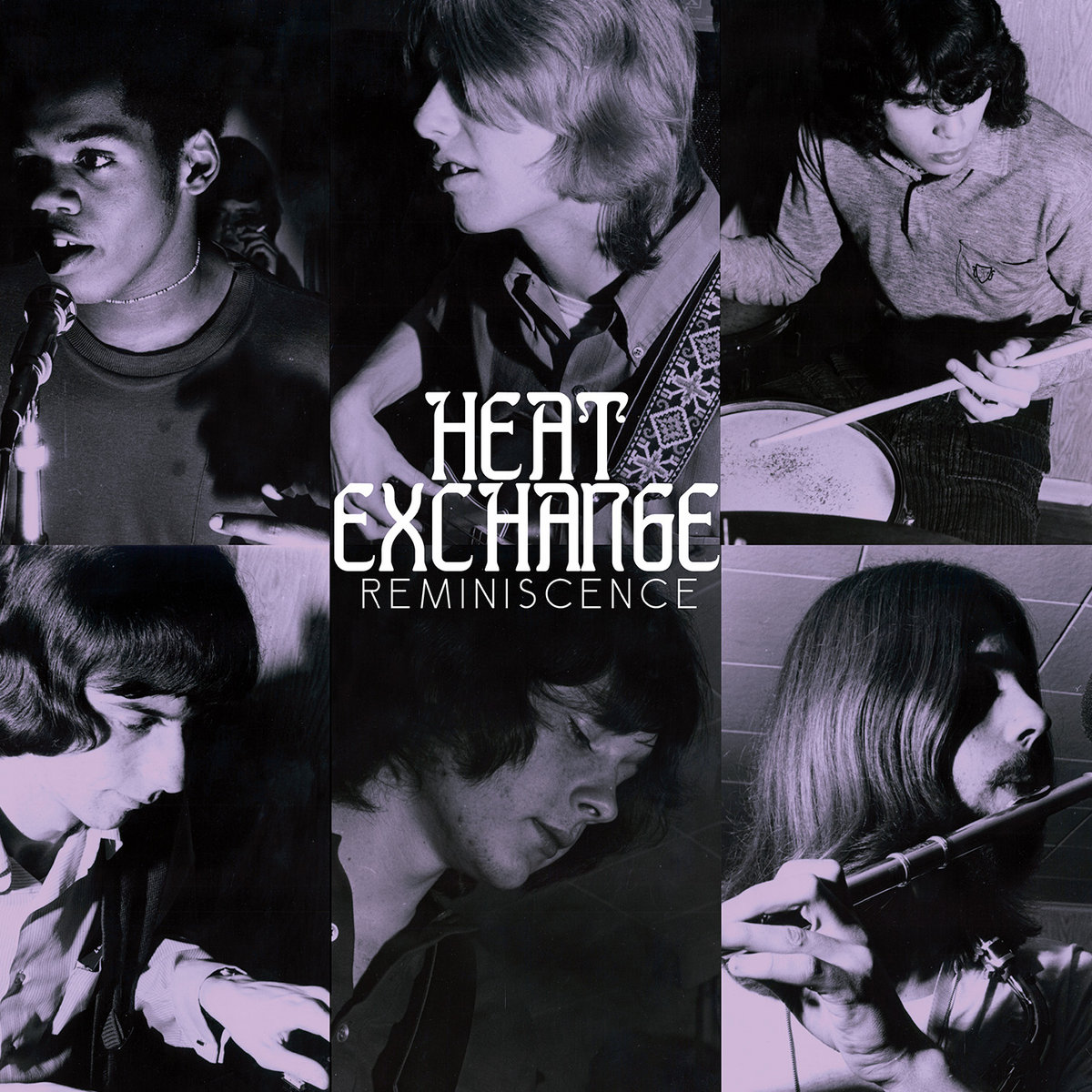 From those dedicated crate diggers and archive explorers, the musical archaeologists at the Catalonia based reissue record label group Guerssen Records comes an album of really great Post-Psychedelic heavy Prog and hard Rock from little known Canadian outfit Heat Exchange. Influenced by the early 70s British Progressive bands Heat Exchange played a blend of jazzy Prog Rock and Bluesy Hard Rock that was popular in the Rock Clubs and University venues around the UK at the time. Heat Exchange had the chops and a whole bunch of well constructed songs with powerful vocals, sax, flute, wah- wah, organ and a seriously solid rhythm section that bring to mind the Island/Vertigo/Harvest etc. bands such as
King Crimson, Jethro Tull, Samurai, Human Beast, Deep Purple, If, Colosseum and Blodwyn Pig.
During their brief existence Heat Exchange recorded an album of which only four tracks were released as singles for the legendary Yorkville label…………..however for the first time ever the complete Heat Exchange studio recordings, including their 45s plus the previously unreleased recordings they did for their never released LP in 1972 are collected together, r
emastered from original reel-to-reel tapes and 45s
and have been newly released by the Guerssen imprint Out-Sider Records complete with
detailed liner notes and photos, including an introduction by Rich Sheppard (After The Sabbath).
For fans of classic 70s Progressive Rock, Guerssen have unearthed a rough diamond………….although Heat Exchange would not have won any points for originality,
Reminiscence
is a solid, absorbing Post-Psych/Prog Rock album and there is lots to love here. We think that the technical term is "all over the place" as Heat Exchange pull in influences from the whole early 70s Prog Rock spectrum……….The opening track 'For Those Who Listen' is a Folk/Prog Arthurian romp with flute and harpsichord, while 'Inferno' and 'Philosophy' are heavy on the Hammond hard rock squalls. There is FM Radio rock ('Scorpio Lady') and far out Psychedelic Jazz ('Scat') all mixed together in Heat Exchange's strange brew. The 10 minute closing track 'Four To Open The Door' is a tripped out Psych Rock wig out which twists and turns around a central flute riff and gives the band the chance to jam………..it's Jethro Tull on hard drugs. Elsewhere there are some really cool, accessible tunes………. 'Stopwatch' is a lost Prog classic with piano, sax and guitar combining beautifully and 'She Made Me All Alone' is a sax driven heavy Blues has the feel of Traffic when they rocked out. This gem is one to check out for all you classic 60s/70s ProgHeads, not arf!!!!!.
Out NOW on Out-Sider Records, Reminiscence by Heat Exchange is available on vinyl and CD from all groovy record stores, the Guerssen on-line store and the Guerssen Bandcamp page here.......................