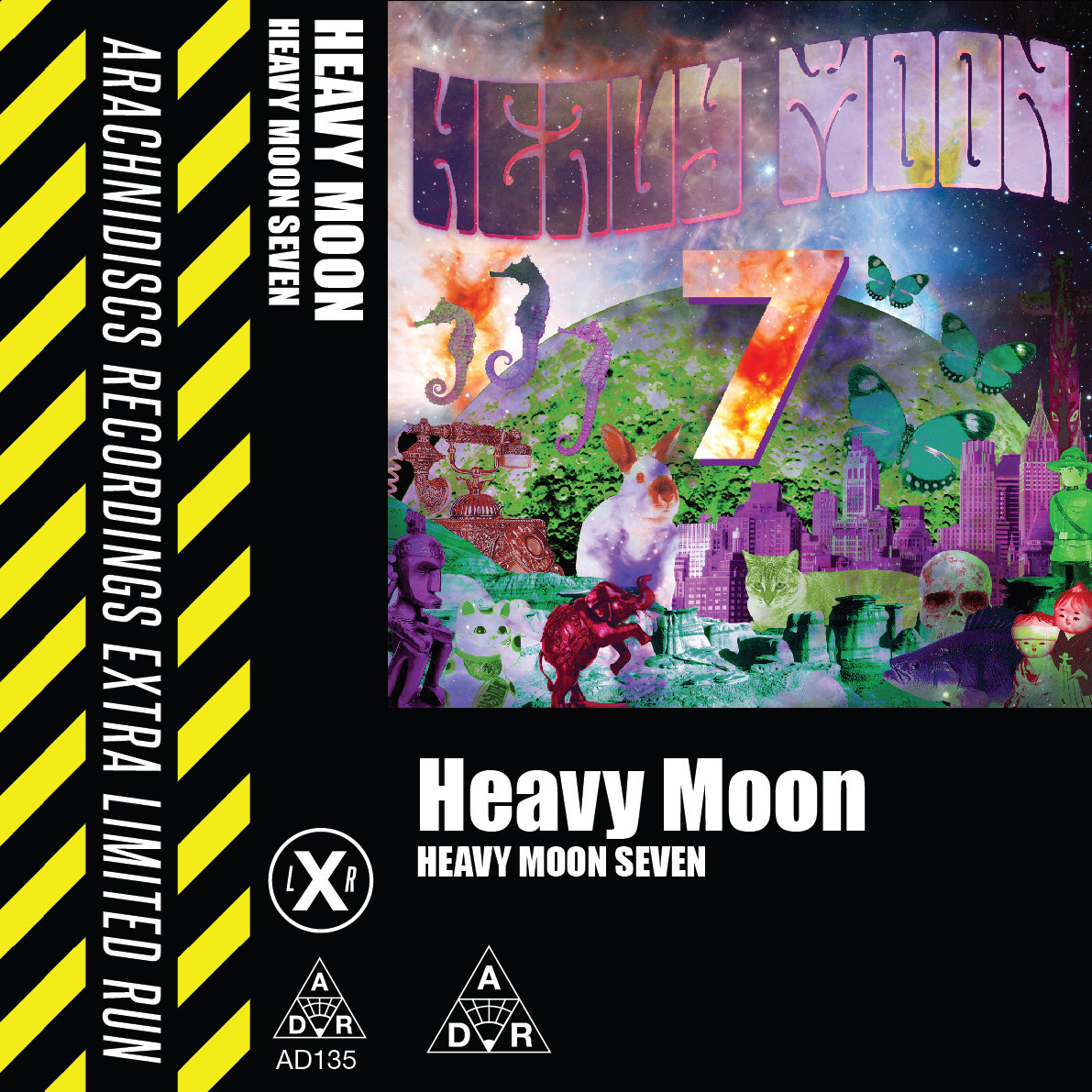 Inspired by classic Pink Floyd, Hawkwind, Harmonia and Black Sabbath, Heavy Moon is a instrumental heavy psych/Kosmic jam studio side project of Jakob Rehlinger of Toronto-based improvisational space-rockers Moonwood. Releasing mindmelting Prog/Psych albums since 2006, the seventh Heavy Moon album (fittingly titled Heavy Moon 7) is more of the same and an absolute must for all you stoner Spaceheads out there………..it's a shapeshifting 10 track Kosmik collision of deep Space Rock, Krautrock and sprawling heavy Prog/Psych Rock and it's an absolute ride.
This seventh Heavy Moon album is a collection of cosmic instrumental space rocks returned to earth from the planets Hawkwind, Floyd and Harmonia. There is a lot to love here for fans of the mid 70s output of Pink Floyd with Jakob twisting heavy Gimour licks around portentous proggy synths on the headswirlers 'Floyd's Droid', 'Pink Stink' and the very trippy 'Gravedigger Dave'....... tracks that are all from the darkside of the Heavy Moon. Elsewhere there are the chugging guitars and spiralling synths of Hawkwind on 'Flight 409 LAX-DUS pt.1&2' and a La Düsseldorf quirky Krautrock shuffle on 'Schütteln, klirren und aufrollen'. For the stoners, 'Bonglord's Blues' is a dense slab of experimental Space Rock that is so heavy it defies normal gravity pulling all surrounding objects into it's orbit. There is nothing stunningly original going on here, but like the other six Heavy Moon albums it's an incredibly well crafted piece of work with Jakob absorbing inspiration from these aforementioned great bands and perhaps other cosmic forces…… plus it's great record for a bong session.
A super seriously limited edition release by the Canadian purveyors of fine audio curios Arachnidiscs Recordings (their tagline "Music For And By Weirdos"), Heavy Moon 7 is available in three unique formats: The cassette has exclusive cross-faded collage mixes of 9 of the tracks while the CD is presented as 10 individual tracks, including the bonus track 'Schütteln, klirren und aufrollen'. The digital download comes with it all! (Both CD and cassette come with the full download so no one misses anything)………..Available from the Arachnidiscs Bandcamp page at https://arachnidiscs.bandcamp.com/, but hurry, the physical formats are selling fast. To celebrate this release all the previous six Heavy Moon albums have been made available as "name your price" downloads at https://heavymoons.bandcamp.com/.