Er……..wow!.......after a recording career spanning over 25 years, Chicago's psychedelic elder statesmen The Luck of Eden Hall have surpassed any of their previous records and have come up with an album, The Acceleration Of Time, which must be regarded as their finest to date. Falling somewhere between early 70s Prog Rock and full blown headswirling Psychedelic Rock, this record really should carry some kind of warning……… exposure to TLoEH's sprawling double album masterpiece will most certainly lead to a seriously blown mind. Mixing up authentic vintage sounds (there is an absolute ton of lush, sweeping Mellotron on this record) with a modern Psych Rock sheen TLoEH have crafted a very Proggy wide screen vista with plenty of off kilter psychedelic moments that both "Classic Rock" purists and wild eyed psychonauts will love to bits…………it's Yes, mid-period Floyd, King Crimson etc. etc. stripped of any pretentious musical over indulgence with an abundance of added kick-ass Rock 'n' Roll attitude.
It's about time…….The Luck Of Eden Hall's vaguely conceptual new record charting how time appears to speed up during the passing of the years opens with 'Slow', a peel of chiming/ticking clocks leading into a squall of swirling guitar and dreamy keyboard swell which sounds not unlike a third cousin, twice removed, of the lead track from the Dukes Of Stratosphear's seminal mid 80s 25 O'Clock EP. One thing you really notice with this record compared to previous TLoEH albums is that keyboards are far more prominent than before…………The Acceleration Of Time is full of old school analogue keyboards sounds which give the tunes greater depth and texture, from bubbling synths intertwining with soaring guitar to gorgeous Mellotron washes which come to the fore on the epic Prog Rock inspired instrumentals on this album. 'A Procession Of Marshmallow Soldiers Across The Clockwork Pudding' is a classic 70s Prog/Psych style instrumental where synths and guitars twist around each other in a spiralling mad dance while 'Channel 50 Creature Feature' is a near 10 minutes of gently drifting, Floyd-esque alien soundscaping interspersed with bursts of furious guitar noise. This is possibly the most sonically adventurous and expansive album that TLoEH have recorded, another long instrumental track, the absolutely stunningly atmospheric 'White Caps In The Wind', where totally beautiful sweeping Mellotron wash combines with wonderfully understated guitar playing for that perfect headphone moment, allows the band to stretch out and explore the dynamics of the tune and they are not afraid to get their weird on with 'You Asked About Water On Mars' TLoEH adding a strange little Wendy/Walter Carlos Clockwork Orange/Switched On Bach interlude into what is effectively a mad 70s Glam stomper………as well as fitting into the theme of the record, a bit of a Bowie tribute maybe?????
Those of you already familiar with The Luck of Eden Hall will instantly recognise the overdriven crunching guitars and solid backbeat of 'Blown To Kingdom Come'………..as well as wide screen, panoramic 70s Progressive Rock inspired tunes, The Acceleration Of Time also has more than its fair share of grandiose Psychedelic Rock tunes that TLoEH are known for which combines the Power Pop sugar rush of bands like the Raspberries with the twisted psychedelia of the 60s, with tracks like 'The Happiness Vending Machine' coming on like Cheap Trick on a drug bender. This is a seriously impressive record full of dark and shade but also massively uplifting………..by spreading over four sides of vinyl TLoEH have taken the opportunity to use this extended canvas to really expand sonically, from the symphonic thrash of 'Another High Speed Blowout' through the beautifully lush 'Arthropoda Lepidoptera' and 'Only Robots Can Search The Deep Ocean Floor' to the gentle psychedelia of 'The Saints Are Quiet Above Us' they show what can be achieved in the studio with great ideas, a fair bit of dedication and expert musical chops…………….God, we wish that all Prog/Psych albums were like this, however TLoEH seem to have an edge on many younger bands through their greater depth of musical knowledge and life experience……….let's say that a bit more………er……..'maturity' will always trump a shelf full of Harry Potter books and Muse albums when you are putting an album together about the progression of time. This truly remarkable album closes with the wigged out 'A Man Of Conservative Style' where TLoEH throw in the psychedelic kitchen sink adding layers of strange to an already berserk Psychedelic Pop number………you really need to check this record. The Luck of Eden Hall may have single-handedly fully restored the tarnished reputation of the concept album with this latest release…………it's like Tales Of Topographic Oceans never happened (how we wish that was true). It's only May but we think we have found our favorite record of 2016. The bar has been set incredibly high and it's going to take a work of near genius for us to change our minds.
The Acceleration Of Time is due for release on June 1st and is available in several formats to pre-order now. The limited edition of 500 2 x vinyl version is released on the Dutch label Headspin Records and is available to order via Clear Spot, the usual reputable outlets and The Luck of Eden Hall's Bandcamp page https://theluckofedenhall.bandcamp.com/. It comes in two versions………250 copies on white vinyl and for those of you that think coloured vinyl records don't sound very good there are 250 copies available on black vinyl.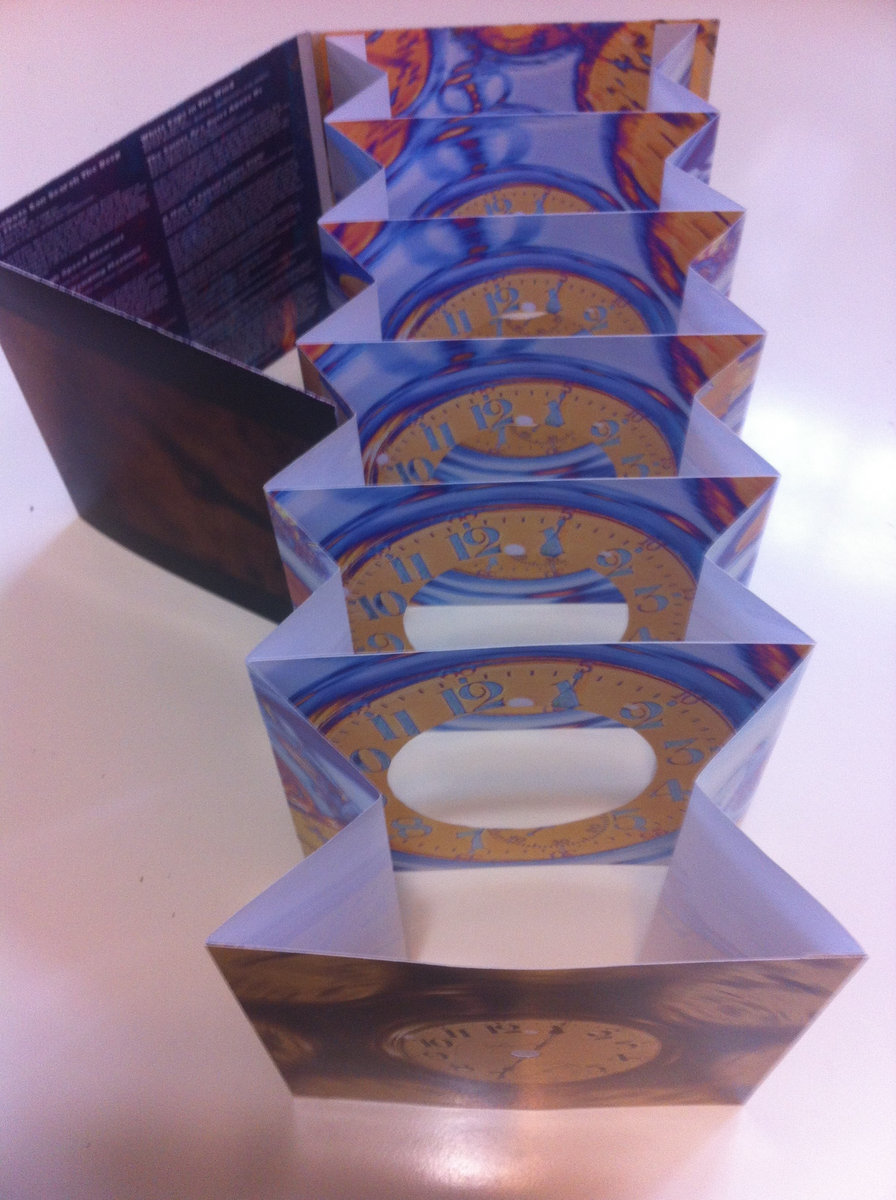 Along with a regular CD release, there is a limited edition of 100 CDs with hand crafted pop-up cover available from TLoEH Bandcamp page where you can also purchase the digital download. Keep 'em peeled for further TLoEH releases this year……..a single 'The End of The Lane' (a song inspired by Neil Gaiman's book Ocean at The End of The Lane, with original cover art by Mr. Gaiman himself) will be available as part of the Mega Dodo Records Singles Club and TLoEH Live At The Cromlech will be out on Fruits de Mer Records sometime soon…….Dig it People.
THEE PSYCHEDELICATESSEN