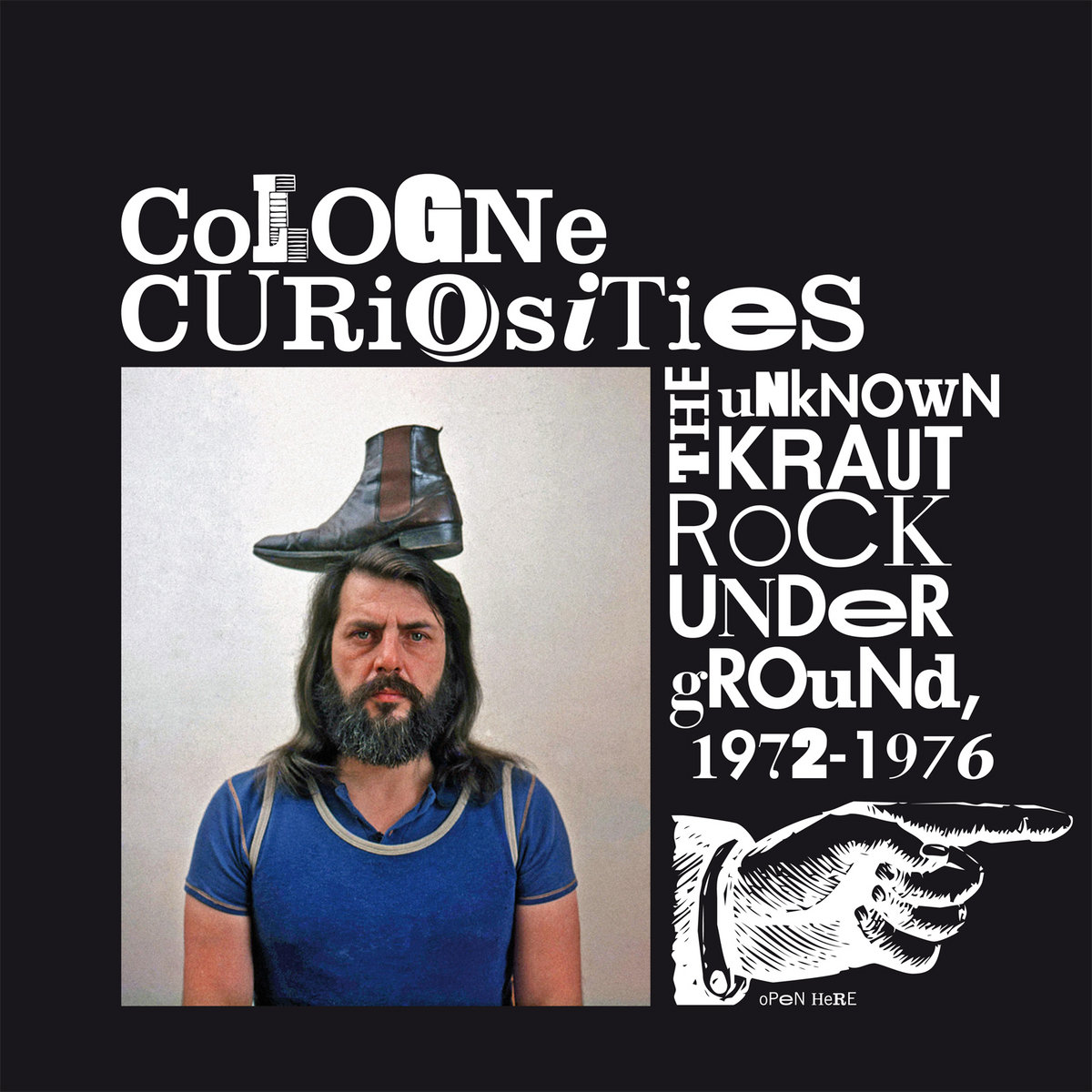 The "Nuggets"of Krautrock???? New from Spanish vinyl archaeologists Guerssen Record's Mental Experience imprint comes a collection of 70s Krautrock rarities from the Pyramid label……a label with such an obscure history, that when these recordings appeared on the three Unknown Deutschland - The Krautrock Archive CDs released on Virgin during 1996 their authenticity, fuelled by internet conspiracy theories, was very much in doubt with the rumour being that they had been recently been knocked together by a bunch of Kosmische jokers cashing in on the 90s Krautrock revival.
Cologne Curiosities – The Unknown Krautrock Underground 1972 – 1976, cherry picks the best of the Virgin CDs and presents these tracks together for the first time on vinyl. Cologne Curiosities collects together music inspired by Pink Floyd, Gila, Cluster, Hawkwind, Ash Ra Tempel, Amon Düül II, Popol Vuh and Cosmic Jokers as the first part of a series of reissues of the entire catalogue of Toby Robinson's legendary label, remastered from the original tapes and includes an insert with detailed liner notes by Alan Freeman (Ultima Thule, The Crack In The Cosmic Egg). The CD releases were originally compiled by the late Trevor Manwaring (Paratactile, Impetus, Virgin, Harmonia Mundi) from tapes supplied to him by Toby Robinson. Toby (aka The Mad Twiddler, aka Genius P. Orridge) is well-known to Krautrock collectors as one of a number of engineers working at Stockhausen's WDR and Dierks Studio in Cologne in the mid-1970's, where he assisted on recordings by many famous Kraut bands such as Can, Birth Control, Mythos or Dzyan. The recordings included here were made between 1972 and 1976 using studios in and around Cologne, produced by Toby Robinson for his own amusement, just having fun on the studio. Inevitably, bands would come in for practice sessions, to record demos, and during slack periods impromptu jams would happen. Most of these sessions were recorded by Toby, and they feature Toby himself plus a revolving cast of friends and musicians (some of them apparently big Kraut names under pseudonym). Some of the tracks made it to wax in very limited pressings by Pyramid Records that were given away at art happings and the like or sold in head shops, however before being unearthed in the 90s most had remained unheard until Virgin Records thought it commercially viable to release three albums collecting the work of hopelessly obscure Cologne-based third-division German experimental bands.
The music here has aged surprisingly well for mainly 40 year old German experimental jams with many of the sounds being familiar to modern day PsychHeads. Including lost-in-time bands and studio projects like Astral Army, Fuerrote, Spirulina and Baal among others, the sounds range from killer proto-New Wave Kraut Psych to wild Space Rock, proto-Ambient electronica, dark psychedelia and raw sounds with lot of analog synths. It's a white knuckle ride through the Cologne underground taking in the Punk Rock/Kraut glamstomp of The Astral Army's 'Interstellar Shortwave', twisted Beefheart blues (Baal), warped Amon Düül II influenced Acid Rock from Chronos and Neil Anderson's experimental ambient guitar soundscapes. There are two very long experimental pieces which close the record…….. 'Innerst' by Ten To Zen is a Popol Vuh-esque Synth improvisation and the dark droning 'Ganz Wie Du Willst' by Fuerrote would not be out of place on an album of left field guitar explorations today. The most accessible track is the Prog/Psych 'The Message' by Spirulina which is straight outta the Pink Floyd book of atmospheric instrumentals with subtle organ/synth wash and weeping guitars and not a typical Krautrock cut. The most fascinating aspect of Cologne Curiosities is that it explores the fringes of Krautrock way away from the obvious "big" bands such as Neu!, CAN, etc, etc, etc………if you like Julian Cope's more "out there" recordings then there is a great deal here you are going to dig. As for being the "Nuggets" of Krautrock……..maybe not as it is far too Cologne-centric and does not take in the vibrant underground scenes in Hamburg, Berlin, Munich, Dusseldorf and so on. However you can consider it as a snapshot of a city that had a depth of talent bubbling under the surface……..very much like the Nuggets L.A. compilation Where The Action Is ("Where The Achtung Is" perhaps).